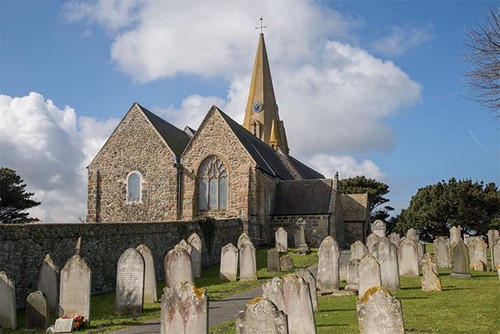 The Vale Church is part of the Deanery of Guernsey and an integral part of the Vale Parish. It is also a member of the Church of England under the episcopal oversight of the Bishop of Dover (in the Diocese of Canterbury).
On Sunday morning there are two services - a Said Eucharist in traditional language at 8.00am, and the Parish Eucharist at 10.30am. Treasure Seekers, its Sunday School, meets in the Billie and Leslie Norman Rooms from 10.15am. On Wednesday morning there is a celebration of the Eucharist at 9.30am, followed by refreshments and bible study in the Billie and Leslie Norman Rooms from 10.15am.
Fr Stuart Tanswell is the Priest in Charge and can be contacted here or you can call the Rectory on 01481-244088, or write to: Vale Church Rectory, L'Abbaye, Vale, Guernsey, GY3 5SF.
For Fr Stuart's Notebook commentaries please click here
This week at Vale Church:

Monday 18th, 7.30pm - Bell Ringing practice 
Wednesday 20th, 9.30am - Said Eucharist in church, followed by Lent Course and refreshments in the Billie & Leslie Norman Rooms
Friday 22nd, 6.30pm - Music Group rehearsal; 7.30pm - Choir practice
Sunday 24th, 8.00am - Said Eucharist; 10.30am - Parish Eucharist with Holy Baptism
Also, of course, Lent Lunches in the Billie & Leslie Norman Room on Friday at 12.30pm.