Disposing of a truck that appears to have been abandoned at the car park opposite the Vale Castle could leave the Vale Douzaine – and parish ratepayers – facing a bill of around £1,000, Senior Constable Richard Leale has revealed. The cost has been significantly increased because the small lorry has been filled with rubbish.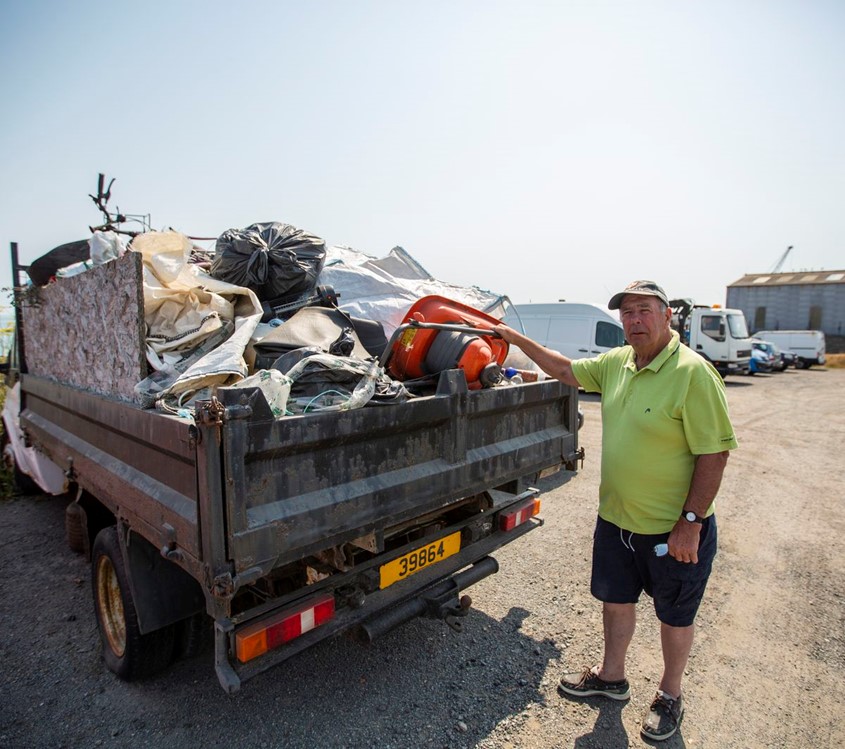 Vale Junior Constable Bill Cohu with the truck filled with rubbish that appears dumped opposite Vale Castle.
(Guernsey Press image by Luke Le Prevost, 31048052)
"It was only after we started making inquiries that it became clear there is a significant cost involved in dealing with this particular vehicle," said Mr Leale.
Two problems have arisen. The first is that automotive removal specialists won't move trucks or lorries while still loaded. The second is that when the contents were checked, the douzaine was told they would have to be treated as hazardous waste because of the mix of materials.
"All this might be perfectly understandable," said Mr Leale, "but the upshot is that the douzaine faces a considerable bill for dealing with a problem not of its making. We're going to have to pay, clearly, but we're not happy about it."
Junior Constable Bill Cohu said he'd had extensive discussions with police, who had traced the registered owner of the truck. When approached, however, he told officers that he'd sold the vehicle and no longer owned it. The current owner has not been traced.
Surprised
"I'm somewhat surprised by this," said Mr Cohu. "It's not clear to me what evidence there is to support the claim the truck has been sold, why the relevant ownership documents haven't been completed or why, as we've been told, the parking tickets that have been issued aren't payable by the last registered owner."
Mr Leale said these were matters the douzaine hoped to pursue as it liaised with Environment over trying to establish a better system for dealing with abandoned vehicles. "It's not just us. We're hearing other parishes have similar issues and I imagine the States themselves do as well on their own land," said Mr Leale.
His request to Environment for discussions on this has been acknowledged by president Deputy Lindsay de Sausmarez, who has asked her staff to make initial contact, which Mr Leale said was an encouraging start. 
Me Leale said there had to be a better, quicker system available for abandoned vehicles. "In this case, for instance, there's some evidence the truck was empty when it was left there and others have taken advantage of it to get rid of their rubbish, including things like tyres, black bag waste, an old bike and a broken lawnmower."
"We even found tyres stacked under the lorry because there was no room left on top," said Mr Cohu. "Rubbish breeds rubbish so you have to deal with it quickly and the current system doesn't let us do that."