All 10 island parishes have widespread concerns about the way Guernsey's planning laws currently work, the Guernsey Douzaine Council has said.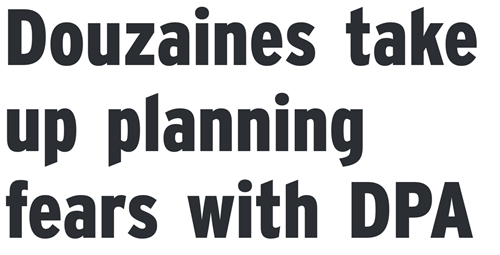 Supporting comments made here yesterday by Vale Senior Constable Richard Leale, the council confirmed there is considerable dissatisfaction with the way the Island Development Plan and the Strategic Land Use Plan operate in practice.
The council, a forum where Douzaines discuss maters of mutual interest, also revealed that these concerns were put directly to Development and Planning Authority president Deputy Dawn Tindall.
Out of touch
Council chairman Mike Fooks also confirmed Mr Leale's view that Planners are out of touch with the views of parishioners and the Douzaines.
He said in a statement to the media and the parishes that Deputy Tindall had steadfastly defended the DP&A rather than taking an independent view. 
"This response is frustrating as the points made are serious concerns shared by all 10 Parishes and were basically statements of fact gleaned from parishioner views, parish surgeries and Douzaine meetings," he said.
He added that States policy was clearly severely lacking without an infrastructure plan in place and the council was determined to press for the changes that were needed because the Douzaines were well aware that any revision of planning procedures could only be acted upon by the States Assembly as a whole.
Planning concerns detailed
The chief complaints about the planning process have also been set out by the council:
No consideration appears to exist to the effects of the aggregate total of all possible development.
Similarly no overarching infrastructure plan exists to manage proposed developments and in this context no priority appears to exist to develop brown field sites over green field sites.
Draft development frameworks (DDF) are published piecemeal so it is impossible for a parish to give an opinion when the total potential development in the area is unknown.
DDFs for windfall sites are effectively planning briefs provided free to the landowners by the planners but at a cost to taxpayers.
Continuing publication of DDFs is causing worry and anxiety to residents adjacent to or close to the sites in question.