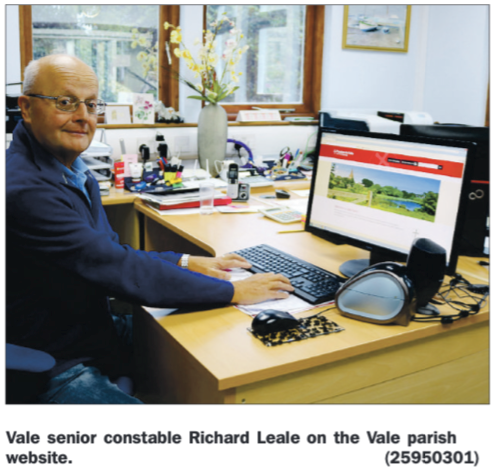 The popularity of the Vale Parish's website has been featured by the Guernsey Press, which reported today that the more than 60,000 'hits' were registered in a recent 12-week period.
In all, that number of individuals were 'reached' through the site or the Vale's Twitter or FaceBook presence, something that has delighted the douzaine, which had earlier decided to relaunch the site.
Senior Constable Richard Leale, pictured here by the newspaper, said: "To be honest, we were surprised when we first saw these numbers and double-checked them, but some of the items we posted did generate huge amounts of interest."
Better loos
These included news that 35 new homes were planned for the North plus a demand for family-friendly toilets at Les Amarreurs play area, something the parish is now pursuing with the Vale Commons Council and the States Trading Supervisory Board, which has responsibility for such facilities.
'The way people receive information and consume media has changed radically over the last few years and it is clear to the Vale Douzaine that "going online" was the right decision because it helps people stay in touch with their parish and the things that matter to them,' he said.
The other benefit was that the douzaine could see immediately what topics engaged or worried parishioners and ratepayers and the feedback helped to inform the douzaine as it administered parish affairs.
Further development of the website was planned, added Mr Leale.