Are you interested in getting an allotment or taking up gardening? If so, Deputy Sasha Kazantseva-Miller would like to hear from you as she is trying to gauge the level of demand in the island.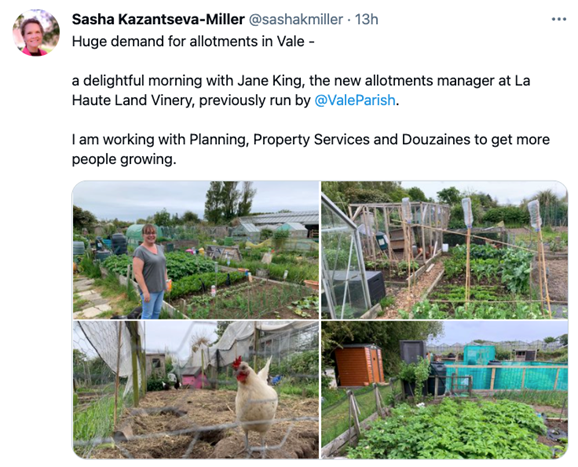 Her interest was triggered by the scheme started in the Vale by former douzenier and States member Laurie Queripel and which is now being run by Jane King, who has bought La Haute Lande Vinery at Les Abreuveurs and is extending the parish scheme, pictured above.
"I am very keen to promote more local growing and started the conversations early on after the election and have already been receiving lots of positive responses," she told the Vale Parish website.
Deputy Kazantseva-Miller has also spoken to Mrs King about how she runs the Vale allotments as part of her fact-find approach to possibly extending allotments around the island.
Demand for and interest in allotments and gardening mushroomed (sorry!) during the Covid-19 lockdowns and appears to be continuing. 
She said that as part of her work on the Development and Planning Authority as a States member they are also looking at ways to stimulate more growing via removing some of the planning barriers and more is to be announced on that soon.
If any parishioners are interested in an allotment or access to a gardening plot please let us know and we will pass your details on to Deputy Kazantseva-Miller. Please email us at  

[email protected]