Vale parishioners who wish to pay their respects to Queen Elizabeth will be able to do so by signing a Book of Condolence that will be available at the Douzaine Room from Monday. The arrangements have just been announced as the nation comes to terms with the loss of its Monarch.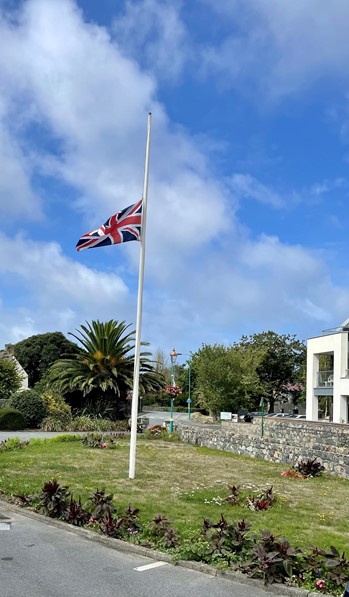 The details have been released now it is known that the Royal family will observe a period of mourning from now until seven days after the funeral.
The book of condolence will be available for signing from 10am on Monday, when the office opens, and its normal hours are 10am - 1pm Monday to Friday.
Books will also be opened and made available at Government House, the Royal Court House and Sir Charles Frossard House and, acknowledging that Her Majesty was the Supreme Governor of the Church of England, books will also be made available in each of the 10 parish churches.
Tradition
Because of the strong traditional link with the monarch and the island's ancient parishes, the offer is also extended to make a book of condolence available at the douzaine room, which the Constables accepted earlier today.
The parishes, also by tradition, will be represented in the ceremonies related to the Proclamation of the King. On the day itself, the States of Deliberation will sit at 11.15am and at noon the accession of the King will be proclaimed from the steps of the Royal Court. 
The parish constables and deans will join the Royal Court procession from Smith Street to Market Square, where the accession will again be proclaimed. 
Following that, the entire procession will return to the Royal Court, where the proclamation itself will be registered at a special sitting of the Court.
In related developments:
Floral tributes can now be laid at the Sunken Garden, St Peter Port, in memory of Her Majesty Queen Elizabeth II, where an official portrait of Her Majesty is displayed (pictured below).
The Union flag at the Vale Douzaine, which had been ripped down on Thursday, has now been restored and is flying at half mast (pictured).
If you would prefer to make a donation to one of Her Majesty's many Charities and Patronages, you can see a list here, with details of how you can donate: https://www.royal.uk/charities-and-patronages
For anyone unable to get to a book of condolence to sign it, the Royal Family have one online, which can be used instead. It is available at https://www.royal.uk/send-message-condolence