Bordeaux had a late 'spring clean' yesterday as volunteers scoured the popular northern beauty spot for rubbish and removed it.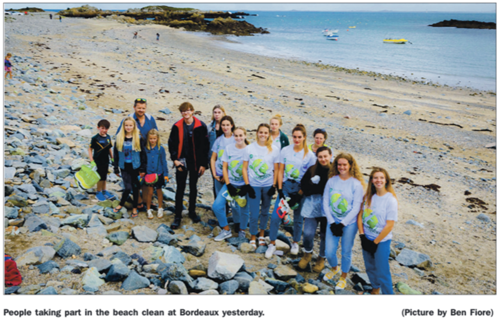 It was part of a number of initiatives across the island and which culminated with around 70 people looking for litter at Vazon on Saturday and enthusiastic volunteers, who included Ladies' College students, tidying up Bordeaux yesterday.
More than 50 kilos of waste and plastic was removed from the two bays, which will now be sorted by Guernsey Recycling, the Guernsey Press reports.
Useful data about littering and plastic pollution was gathered as a result and a new app designed by students at C4 was used by the Ladies' College pupils for the first time. The information collected is used by the Marine Conservation Society, which also promotes beach cleans in the UK.
The initiative was welcomed by the Vale Douzaine, which recently extensively cleaned up the laying-up area used by boatowners opposite Bordeaux Harbour as part of its on-going parish improvement scheme.