Details of an election for a new Vale Douzenier to replace Mr Martyn Torode, who has ceased to live in the parish, have now been released.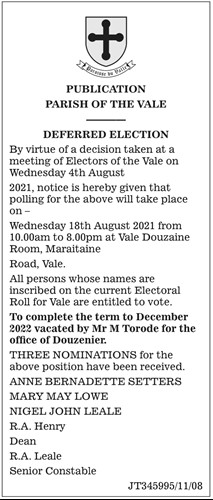 It will be held on Wednesday 18 August with voting at the Vale Douzaine Room, Maraitaine Road, from 10am until 8pm.
All those whose names are inscribed on the Electoral Roll for the Vale are entitled to vote  
The formal notification, which was published in La Gazette Officielle, notes there are three candidates for the single vacancy.
Full details are provided in the notice, pictured: