A solution to the rapidly-worsening erosion at the coast path bordering La Fontenelle Bay near Beaucette is to be explored by the Environment and Infrastructure Committee. President Deputy Lindsay de Sausmarez gave the assurance after she saw first-hand the problem first flagged up by the parish authorities.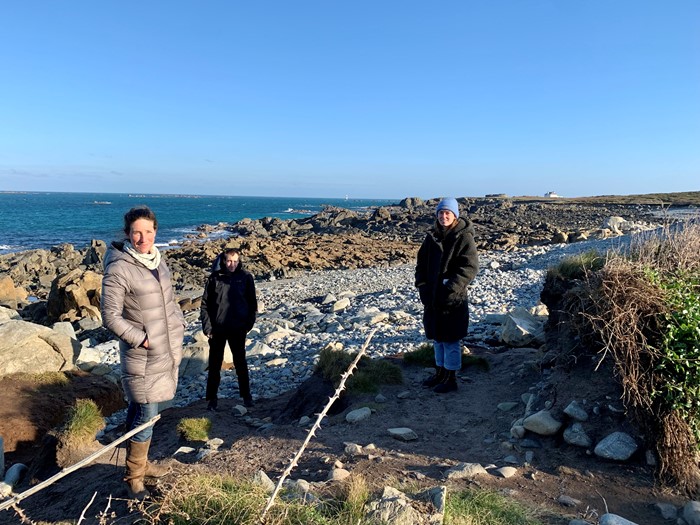 Deputy de Sausmarez, left, with E&I officers Peter Barnes and Emily Coule
The issue has been monitored over decades by the Vale Commons Council, supported by the Vale Douzaine, and one particular area has become particularly damaged over the last couple of years.
Senior Constable Richard Leale invited Deputy de Sausmarez to see the problem for herself after she attended a recent meeting of the Douzaine to answer douzeniers' questions about Environment and Infrastructure, what it regarded as the north's particular issues and how the committee might assist in overcoming them. 
"It was a particularly useful session," Mr Leale said, "and we were delighted that Deputy de Sausmarez agreed to look at the path."
Prevention
An on-site inspection included E&I's Renewable Energy & Projects Officer (Energy & Infrastructure) Peter Barnes and Acting Senior Environment Services Officer (Agriculture, Countryside and Land Management Services) Emily Coule, who agreed that the erosion was worsening and that, if possible, it would be better to try to prevent the existing path from being washed away rather than creating a new one after it had.
The problem appears to be an existing shingle bank, which previously protected the area, shifting to the north-east and exposing soft soil, which is at the same level as the path, as shown in the picture (below).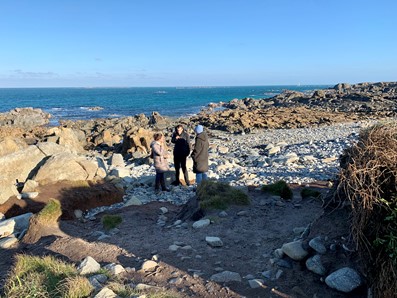 Mr Barnes said that a number of options might be available and Deputy de Sausmarez undertook to liaise over whether it was possible cost-effectively to take a "stitch in time..." approach to reducing the erosion there.
"I'm grateful for E&I's willingness to listen to the parish over this," said Mr Leale, "and that we've been able to work with the Vale Commons Council over something so important to the hundreds of walkers who use this area."
VCC president Peter Blake said: "The Vale Commons Council, on behalf of the Habitants of the Clos du Valle, is under a legal obligation to look after and maintain the Commons for the benefit of all Islanders. We take this obligation very seriously and are grateful to the Douzaine for their support in our determination to press for the protection of our coastline where this is necessary."