A problem of coastal erosion at La Fontenelle Bay near Beaucette is likely to be resolved before the winter storms come and make the situation worse, the Environment Committee has said in response to representations from the parish and Vale Commons Council, which is responsible for the area.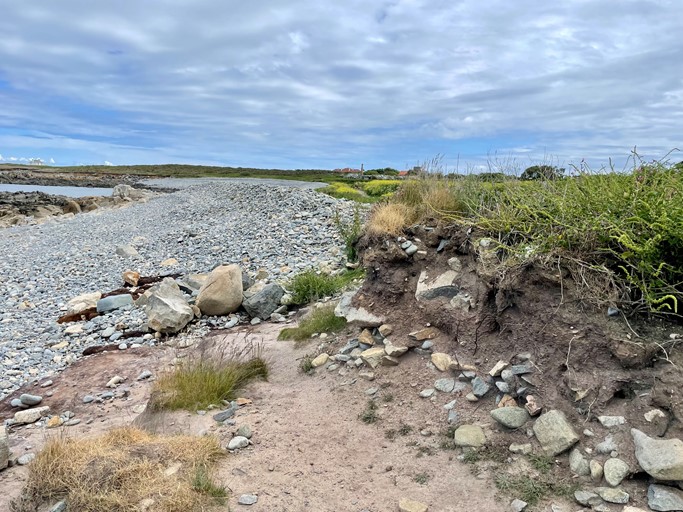 Douzaine officials met Environment and Infrastructure Committee president Deputy Lindsay de Sausmarez and some of her officials on site before Christmas and highlighted the problems, which the Vale Commons Council has also been monitoring for a number of years.
Since then, work has been going on behind the scenes to understand the problem which, if left unchecked, is likely to see one of the most popular stretches of northern coastal path washed away.
No wall
Environment has met the VCC on site a couple of times since and options discussed. "Hard" coastal defences such as a wall were ruled out on grounds of cost, appearance and the effects on area either side of where any wall ended. 
The council told Environment it would not be able to support re-routing the path on either a new line or on existing paths/tracks and its preferred option was to investigate a re-profiling of the shingle ridge to the East and to push shingle in front of the area of erosion – something also supported by Vale Senior Constable Richard Leale.
A spokesman said that as a result, "we are investigating that option with a view to undertake the work before winter (i.e. outside of the bird breeding season but before winter storms). To do this we are investigating the need for planning permission for the works, the potential environmental impacts (and how they can be mitigated) and, last but not least, investigating how much of the shingle can be moved without leading to flooding/erosion in the donor area."
A douzenier who was involved in the December meeting with Environment said it was gratifying that the States were reacting to parish concerns and had agreed with the douzaine and VCC that a "stitch in time" approach to the erosion was worth trying to prevent the path from being washed away.