Anyone fly tipping anywhere in the island will be pursued with the utmost possible rigour, according to the senior civil servant responsible for the island's waste strategy.
Richard Evans, deputy managing director of States Trading Assets, was responding to Vale parish concerns following two recent cases of unauthorised tipping, one at the well-known beauty spot overlooking Houmet Paradis, below.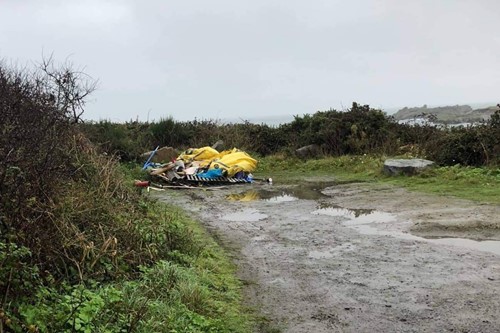 These were raised by Senior Constable Richard Leale after confusing messages were received from the authorities over action to be taken over the Houmet Paradis case and another at Griffiths Yard, opposite the Vale Castle.
In both instances, items were found that appeared to identify those behind the illicit dumping and Mr Leale said he anticipated swift action by the police.
Action requested
After this appeared not to be forthcoming – officers said it was a summary matter to be dealt with by Public Services – Mr Evans was contacted to see whether Guernsey Waste could take action.
"To be clear," Mr Evans told the Vale Parish website, "fly tipping is a criminal offence and we will do our utmost to ensure that anyone guilty of an offence is prosecuted to the full extent of the law.
"I am aware of these two incidents and they are currently being investigated and we take such cases very seriously indeed."
Evidence
A property being renovated apparently linked to one of the cases of fly tipping had been visited, while a one tonne bag left at Griffiths Yard had already been removed. That also had evidence in it linking it to those responsible for the fly tipping. Guernsey Waste have reported this incident to the Police and provided them with evidence.
Should there be insufficient evidence to secure a prosecution in these cases, based on the balance of probabilities, Guernsey Waste will send a substantial "clean up" bill to whoever is identified in the evidence.
Mr Evans said that Guernsey Waste was currently reviewing how fly tipping is policed and reported, to make the process as simple as possible and easier for people to understand.
Streamline
The current advice online says that if someone has fly-tipped then a crime is likely to have been committed and the finder or the landowner should report the matter to the Police using an online form or by phoning 725111. If the fly-tipped rubbish is on the road, a pavement, or a car park needing a parking clock then Guernsey Waste needs to be contacted. If it is in a coastal car park then Agriculture, Countryside and Land Management Services are involved.
"I'm sure we can streamline that process," said Mr Evans, "so there's a single point of contact and we work out behind the scenes how best to handle the problem. We want to make this as easy as possible to report so we can stamp out fly tipping in the island."
Meanwhile, if you spot anything, you can ring the team at Guernsey Waste on 231234 or email

[email protected]

.