Yesterday's great Jubilee Jamboree held at L'Islet Common jointly by the Vale and St Sampson's Douzaines was hailed a great success by the hundreds and hundreds of islanders who turned up to take the opportunity to celebrate the Queen's 70-year reign.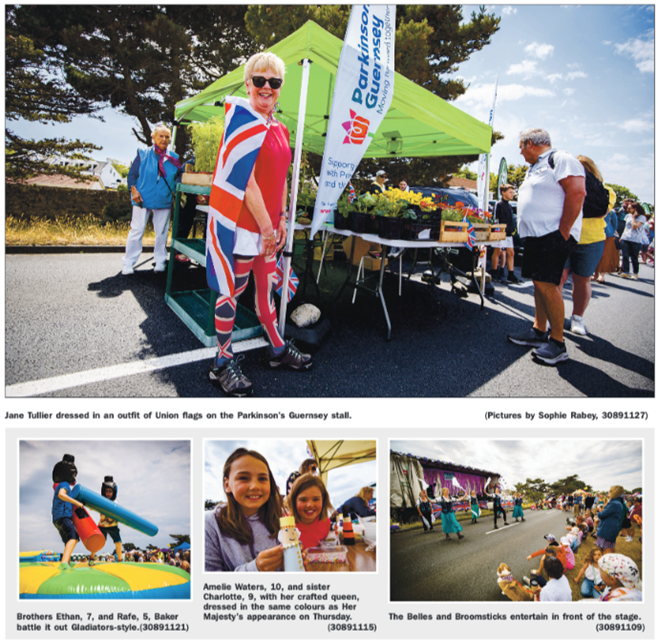 How today's Guernsey Press recorded the event
The venue was also hailed a great success as the coast road was closed to host a giant street party and many other events, stalls and attractions and ensure that a really fun family day out could be enjoyed by all.
The douzaines, members of which spent nine months planning and organising the event, were hugely grateful for all the support they had in the run up to the jamboree and on the day itself.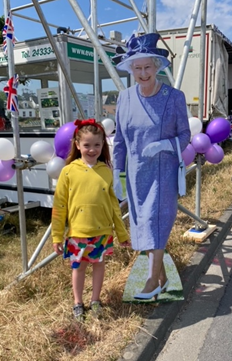 "The smiles on people's faces and the relaxed atmosphere all helped to make it an extra special day and celebration," one Vale Douzenier said.
Among those enjoying the day was the Dean of Guernsey, the Very Reverend Tim Barker, who said the crowds flocked to an afternoon of #PlatinumJubileeCelebration fun on L'Islet Common and took some pictures to  show the fun (see below).
Excellent
L'Islet resident and Guernsey Chamber of Commerce vice president Diane de Garis also used social media to comment on the jamboree: "Excellent event @ L'Islet yesterday. Well done to the organisers!" she said and posted the following image (see foot of page).
The day was also special for one parishioner – because she got to meet the Queen! Six-year-old Ruby Day went to the jamboree with mum Racheal and family and was delighted to pose with a life-size image of Her Majesty to commemorate the Queen's remarkable anniversary.
The organisers, a committee of douzeniers from both parishes, were pleased with the way the day went, with St Sampson's Kim Abbotts telling the Guernsey Press that it had exceeded their hope and expectations.
There were some anxious moments, however.
A special diversion had been set up to enable the hundreds of cars to park safely on the Common – but at 4pm the evening before a digger and compressor were blocking it as part of Sure's fibre broadband project. Happily, a few phone calls and the problem was swiftly resolved and the traffic was able to flow smoothly on the day.