In case you missed it, the popular kiosk at L'Ancresse East has reopened for the summer, and will be there seven days a week until 30 September – although new tenant Sandy Brassell would like to continue next year depending on what happens to the anti-tank wall project in the meantime, given the strength of opposition to its removal.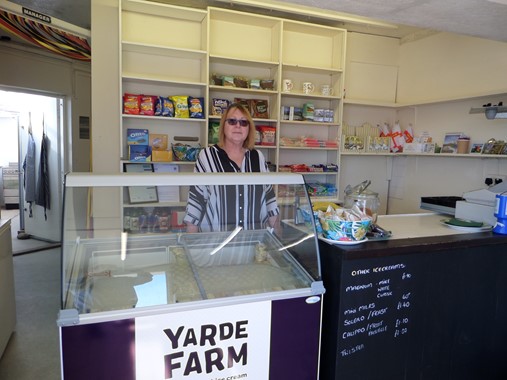 Many parishioners were surprised that someone was prepared to take on the busy beach facility for just one season, especially since the kiosk was essentially an empty shell when Mrs Brassell got there.
However, as she explained to Vale Parish website, her background in catering – she ran both Cafe Victoria at Candie Gardens and the refectory at Castle Cornet from 2001 to 2004 – meant she already had a lot of equipment in storage without having to invest from scratch.
She was also ready for a change. 'Cooking is my passion,' she said. 'I just like being in a kitchen.'
The kiosk, a northern favourite with visitors, is open from 10am until 6pm, although she says that will be extended if the weather is good and people are still around wanting to be served.
Childhood memories
Mrs Brassell, who grew up in the north of the island, has fond memories of her childhood on L'Ancresse and Pembroke with big family picnics and teas and wants to help recreate that for others this season. 'I can even do high teas if people give me a bit of notice!'
So as well as providing a full range of kiosk fare like sandwiches, toasties, sausage rolls, and home-made burgers using local beef where possible, Mrs Brassell takes orders for picnics and hampers (24hrs notice required) for families wanting to have that authentic beach experience. She also takes orders by phone (number below) for lunches or tea and has kept chips on the menu because of the demand.
While it sounds like a lot of work for a kiosk, Mrs Brassell ran the Victoria Arms pub until the end of last year, which she estimates was a 120-hour a week commitment. 'I started at 8am and would frequently still be there at 2 o'clock the following morning after all the clearing up and cellar work,' she said.
'So yes, I'm ready to work just days and am really looking forward to welcoming old and new customers.' 
Having served a lot of visitors while running the two St Peter Port cafes, Mrs Brassell wants to use local products where possible – including Guernsey biscuits – and will have homemade bean jar on the menu throughout the season as she says it is a tourist favourite and popular with locals too.
She has also sourced what she says are 'really different' ice creams from Yarde Farm, including lemon meringue and, a favourite with children, cherries and custard.
Live music
One things she hopes to re-establish is live music at L'Ancresse. 'I remember the Salvation Army Band playing on the beach when I was young,' she said, 'and I'd like to try to get something like that going while I'm here as I'd really like to be able to support local talent.'
Anyone interested in performing there should contact Mrs Brassell via 07781 127 105 or by email on [email protected]
In the meantime, her first big event of the season will be a hog roast with music on Sunday 27 May, the Whitsun weekend. Music will start at about 3pm and the food should be ready from 4.30/5pm