Taxpayer money may be used to help speed up the regeneration of the Bridge area by facilitating the redevelopment of the long-derelict Leale's Yard area. Policy & Resources Committee said this afternoon that it expects to be able to ask the States to enter into an agreement to buy newly constructed homes on part of the site as an investment.
"In a move away from the purchase of land and to diversify relationships and accelerate regeneration, the States will be asked to enter into an agreement to buy newly constructed homes on part of the Leale's Yard site, ready for occupancy and therefore providing a revenue stream. Housing supply and affordability is the most critical issue for the Island and the States will want to secure as many homes as they can reasonably afford given the pressures on social housing, partial ownership and key worker provision," P&R president Peter Ferbrache said in a statement.
"The committee wants to do all it reasonably can to support this troubled site deliver its potential and, given its history, this seems very unlikely without some upfront investment, which includes support for critical infrastructure like flood defences. The negotiations are not with Co-Op but the entity now responsible for the site's development.
Realistic chance
"This site has a development framework and some planning approvals so is further progressed than many alternatives. It also has a contractor so has a realistic chance of bringing these homes to market this political term. The site is also central to ensuring the best use of adjacent land. The Committee is currently in sensitive commercial negotiations to support this work. It is very early in the discussions which remain subject to due diligence and achieving an acceptable financial arrangement. However, the tenure of properties secured will be mixed and very likely to include key worker accommodation that will again achieve a financial return for the States," said Deputy Ferbrache.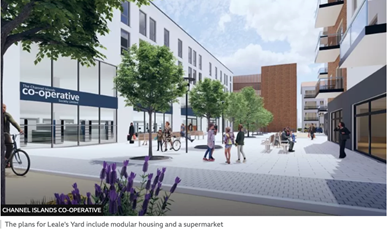 The release can be read in full here and it follows another announcement a week earlier when government said it would be seeking States members' support in principle to invest in the regeneration of the Bridge area for housing and associated flood defence work as part of the Government Work Plan to be debated in the autumn.
On Thursday, The Channel Islands Co-operative Society, which owns the site, said that it hoped to begin demolition of the site before the end of the year. CEO Mark Cox told the BBC: "We hope the application will be in with the planning department within the next few weeks which would hopefully enable us to be on site before the end of the year to start clearing down the remaining buildings."