The Development & Planning Authority has granted outline planning permission with conditions for the redevelopment of Leale's Yard following an Open Planning Meeting yesterday – but it's still not clear when work on regenerating the area will actually begin.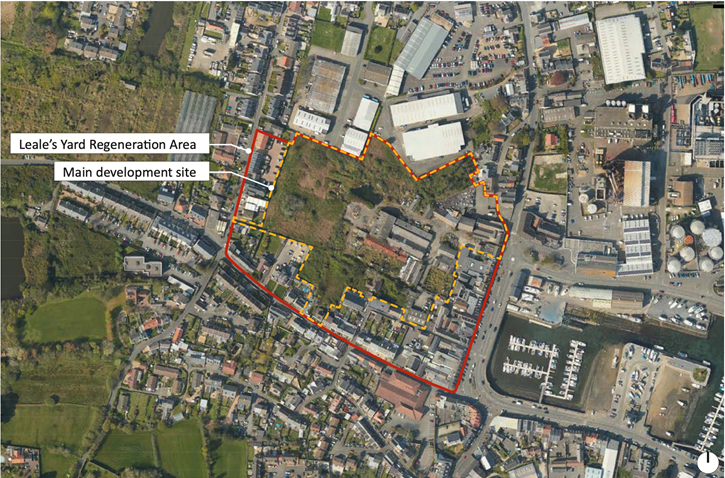 That's because the permission is subject to owners the Channel Islands Co-operative entering into a binding planning covenant agreement which is deemed satisfactory by the DPA.
The seven-acre site has been granted permission to be transformed into 338 homes, a multi-storey car park for 300 cars and about 14,000sq. metres of retail and commercial floorspace, including a large Co-op and associated landscaping, service roads and infrastructure.
But many more details such as its financial viability will need to be finalised, the Guernsey Press reported today.
The DPA voted unanimously yesterday to approve the application. During the planning process, seven letters of representation were received from stakeholders and members of the public. Five individuals spoke publicly at the meeting, some of whom raised concerns about the application. The main concerns raised included the:
development overlooking a neighbouring property
narrow width of Nocq road
proposed hours of operation
potential quantity of affordable housing under existing Planning policies
Outline planning permission for the application was granted with a couple of minor changes to existing conditions, including:
clarification on the required access design to Nocq road
opting to make the hours of operation for some units a reserved matter for consideration at a later date
reviewing the design codes for green spaces
The DPA said outline planning permission sets high level land-use and design parameters and allows for other detailed matters to be submitted to the Authority for approval. This includes, but is not limited to, the design and external appearance, access and landscaping, which must be agreed before any development can take place.
Deputy Victoria Oliver, President of the DPA, said:
"We've listened to the representations made and believe that the principles of this application are in accordance with the vision of the Development Framework for the Leale's Yard Regeneration Area, I hope this will be a place to live, work and play.
"In granting outline planning permission, we've given our approval to the general principles of this development (the master plan), enabling the applicants to work through the finer details to be brought before the Authority to ensure that this development brings important regeneration and rejuvenation to the Bridge."