Details have been released about how Liberation Day will be marked by the Vale this year, with the Education, Sport & Culture Committee deciding not to hold centralised celebrations and instead leave it to the parishes.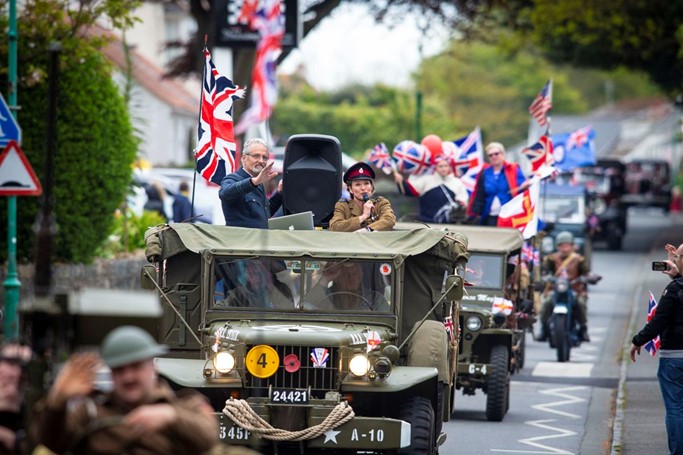 The Liberation Day cavalcade going through St Martin's last year. (Picture by Peter Frankland)
The immediate emphasis is on more senior parishioners, with the island-wide cavalcade planned to travel past the Vale Douzaine Room at about 1.45pm on May 9. In all, approximately 100 vehicles including military vehicles and motorbikes from the Guernsey Military Vehicle Group and classic cars from the vintage Car Club will travel more than 30 miles on the afternoon of Liberation Day. Decorated tractors will join them at Pembroke until the end of the route and Islanders will be able to pick any spot around the Island to watch the cavalcade go past.
Because of this, the Douzaine has invited residents from Gardenia Lodge, Nouvelle Maraitaine and older members of the Vale Church and the parish generally to see the cavalcade from its premises and to attend a special tea afterwards. 'Cuppas' will be served with scones, Guernsey gache or sausage rolls after the cavalcade has passed.
Those invited or eligible to attend are asked to reply by April 29 by ringing the office on 244155 or emailing [email protected] so numbers can be confirmed.
A special Liberation Exhibition is also planned, which will be on display at the Douzaine and further details on this will be provided shortly.
Further details about island-wide events can be found here and the route of the cavalcade is reproduced below: