The following has been received from Denice Prestidge, Project Manager, Inert Waste, States of Guernsey Trading Assets, in response to a suggestion made at the last Vale Douzaine meeting that Longue Hougue Quarry would be a suitable site for disposing of inert waste:


Dear Mr Leale

Longue Hougue Reservoir and Inert Waste Management
I am writing to you, following an enquiry from the Guernsey Press to the States of Guernsey's Trading Assets on the 5th December, regarding the Inert Waste Project. The enquiry was to ascertain why the water-based quarry at Longue Hougue was eliminated during the shortlisting of suitable sites for residual inert waste management. Trading Assets have responded to the enquiry, providing them with the following information, which I hope is of assistance to you and the Vale Douzaine.

Following a detailed options evaluation, numerous locations were considered as potential sites for the future management of inert waste. These included land-raising opportunities, infilling disused former quarries, land reclamation, or use in strategic projects, such as improving sea defences or a potential runway extension. Nothing was ruled out from consideration.

Infilling Longue Hougue Quarry was therefore included as part of the original long list and was evaluated along with other options. While it has certain advantages, particularly in terms of its location and the potential future development opportunities, it was ruled out because it is a major water resource for the island. Whatever the longer-term possibility, there was no prospect of the site becoming available within a reasonable timescale to be considered as a viable option currently.

In addition, Stephen Langlois, General Manager, Guernsey Water authorised the following statement to be sent to the Guernsey Press:
"..Longue Hougue Quarry will continue to be the island's largest and most important reservoir and provide vital protection from drought even after the current treatment works there have been decommissioned.
Longue Hougue supplies around 5.2 million litres of water to customers every day. When the Water Treatment Works at Juas is refurbished, it will rely heavily on water from Longue Hougue reservoir, which will continue to be a vital part of the island's water supply for many years to come."

Longue Hougue has capacity to store 1,159million litres of water, while St Saviour's Reservoir has capacity of 1,091 million litres, and Juas 586 million litres. All three are integral to Guernsey Water's long term plans for water resource management..."

We have produced an interactive map showing all of the sites that were considered and providing details of the outcome of the evaluation. That can be found at:  www.gov.gg/inertwaste

Longue Hougue South, has been identified as a 'preferred way forward', as a proposed future site for management of residual inert waste. The option evaluation process is detailed in the Options Report provided by Royal Haskoning and published on our website at: www.gov.gg/inertwaste

I would be happy to meet with members of the Vale Douzaine to explain the process in more detail. In addition Stephen Langlois would be happy to explain the plans relating to the water treatments works and reservoirs.

Yours sincerely
Denice Prestidge
Project Manager, Inert Waste
States of Guernsey Trading Assets

 
'Redundant' quarry may be option for inert waste
Concerns about proposals to reclaim land from the sea off Bulwer Avenue were raised at the last Vale Douzaine meeting, with a variety of opinions being expressed.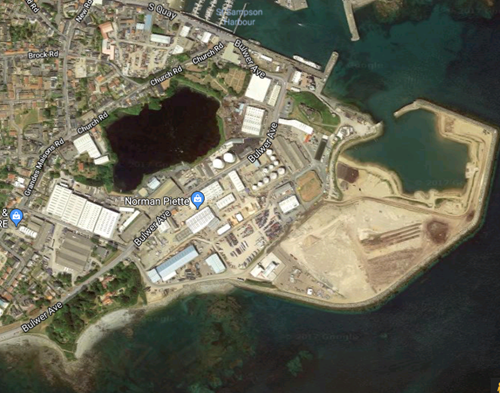 This included sympathy for the householders affected, fears that the project signalled longer-term intentions to reclaim more of Belle Greve Bay, and a recognition that the island had to dispose of its inert waste.
What surprised Douzeniers, however, was why the Longue Hougue Quarry, pictured above, was not to be used as an infill site instead of dumping inert waste on the island's shoreline.
While Guernsey Water uses the quarry, which backs onto St Sampson's Church and cemetery, for storage, it has apparently mothballed its filtration equipment and does not intend to transfer the water there into the mains system, although it can be used for refilling the large tanks used for harbour fire-fighting purposes.
For many Douzeniers, utilising what is a seemingly redundant quarry already in an industrial area with good access is a more attractive prospect than destroying a little used but ecologically important bay at what's been designated Longue Hougue South, at the bottom of the picture above.


'Weighting change would favour quarry'
This view was strengthened when the Douzeniers were informed  that had the 'weighting' procedure designed to find the best location for inert waste been modified slightly, the quarry would have emerged as the better site.
'In view of this, the Douzaine is actively seeking further information about the possibility of using the "redundant quarry",' said Senior Constable Richard Leale.
'The Douzaine has not reached a definite conclusion on this matter but believes the debate needs to be widened to include the quarry, if only to establish why it is not suitable.'
On the face of it, he said, the location was preferable, would yield a similar area of reclaimed land and that would be in a potentially more valuable area.
'We are publishing this to try to stimulate a wider debate and we hope that the Vale deputies will also investigate this option on behalf of parishioners as well,' he said.