Further details have been released about the proposed development of 131 affordable units of accommodation at the former Kenilworth Vinery site, now known as Parc Le Lacheur. This follows a public presentation today, when parishioners had an opportunity to see the plans and ask questions of the Guernsey Housing Association, which is responsible for the scheme.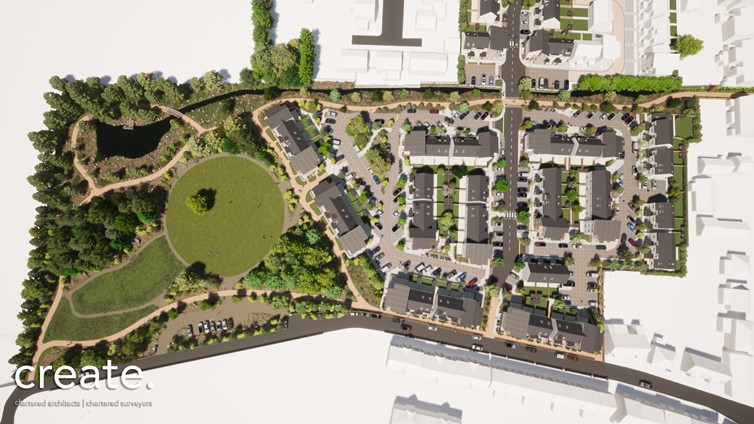 In all, 60 one bed flats, 41 two-bed houses, 28 three-bed houses and two five-bedroom houses are planned, with an additional 16 units earmarked for an area outside the scope of the current application.
The presentation went into the details of how the site has been designed around a central arterial road that the States can adopt as a public highway in due course and the buildings themselves are orientated in a north-south grid pattern.
Issues that concerned douzeniers at an earlier presentation were also discussed. These are parking and drainage, the site being reclaimed land and lying below high water mark.
Drainage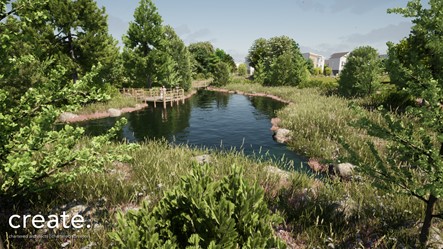 The GHA says that surface water discharge from all units will be directed into the existing douit and swale (a low-lying depression, pictured). Land levels will be raised to allow drainage to flow and flood risk mitigation measures introduced.
The swale is within within the parkland area to the west of the development and will retain excess water and act as buffer in the douit system and provide a feature for the public area that's to be created.
The douit will be widened with weirs introduced to increase system capacity to hold surface water and the basic idea is for the low lying area to act as a reservoir in times of heavy rain so the existing stream system won't be overloaded or properties downstream affected. 
Parking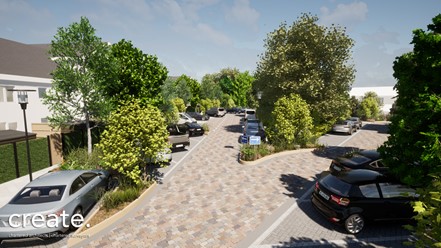 In all, 206 parking spaces will be provided, based on approximately 1.5 spaces per dwelling (197+9 additional) while 22 disabled parking spaces (located next to ground floor flats and 5 bed units) will be made available.
Four motorcycle parking areas will be installed, which will give space for up to 41 machines in total.
The plan is also for 14 public bicycle parking areas amounting to 71 spaces, with each accommodation unit having private secure storage for bicycles (202 total).
Landscaping
Parc Le Lacheur has been designed for five landscaping zoned areas and the proposals also intend to introduce publicly accessible parkland within the designated important open land, which will serve the local area.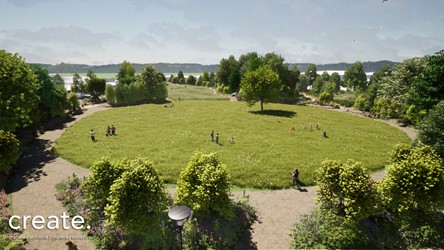 Proposals have been included to introduce wild flower meadows with the potential to propagate local endangered species, such as orchids.
Drift Planting to surround the douit and swale areas have been included, along with with a proposal to include a viewing platform to the water-filled swale.

More information about the proposals can be found here:
https://www.gov.gg/liveplanningapplications
The official application is for Residential development for Affordable Housing - Erect 71 houses and 60 flats with associated vehicular access onto La Route de Braye, pedestrian accesses, parking and landscaping including create parkland with parking and access onto Saltpans Road.