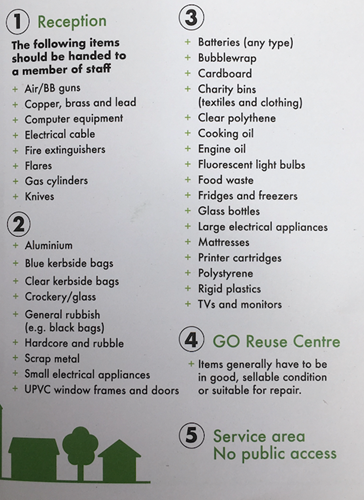 Guernsey's new recycling and waste centre has opened at Longue Hougue and accepts a wide range of items for processing.
It's very different to the previous arrangements and the site is much more structured in the way it accepts items.
Most are still received free of charge but fees are payable on materials that are generally not reusable or recyclable.
What can be disposed of for free is indicated in the chart opposite and the previous centre was very popular with islanders and parishioners for getting rid of 'stuff' in a responsible way.
The new facility does require you to reverse up to the various recycling skips, which are now housed below ground level.
A couple of useful pointers:
Old clean clothes not fit for resale can be left in the charity bins and are recycled into cloths for wiping or used for carpet underlay.
Recycling's necessary: the average home in the Vale creates more than a tonne of waste and recycling – about the same weight as a small car