Yes, after weeks of delay caused by Covid, bad weather and literally waiting for the grass to grow, the new children's roundabout at Les Amarreurs playground is finally available for use.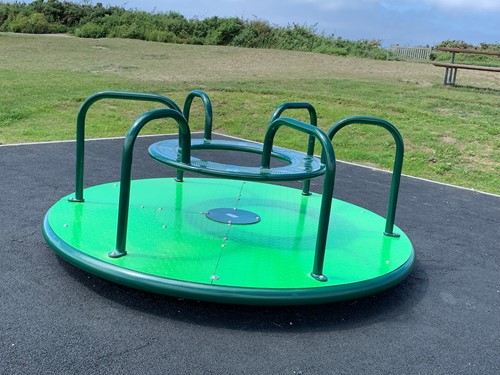 The equipment, installed some weeks ago, was waiting for a special safety ground covering to be applied and for grass around the installation area to be reseeded and to grow back.
That has all happened, the barriers removed and the new plaything has been in use this week.
It's the final piece in improving the play area at Les Amarreurs and the Vale Douzaine is pleased that the work has finally been completed.
Cost met
The roundabout joins climbing equipment, a slide and swings and no further additions are currently planned. The cost has been met from the parish improvement fund, established to help enhance the parish, and which will also maintain the equipment.
Vale Junior Constable Bill Cohu, who keeps a special eye on the area and mows it, said upkeep was surprisingly demanding. A regular programme is in place to keep equipment safe and the douzaine was grateful to Andrew Pouteaux and the Art of Living Community Volunteers who also helped to keep the kit painted.
While the parish improvement fund is limited in what it can do, the douzaine is always pleased to hear parishioners' suggestions of what can make the Vale even better. Thoughts and ideas to

 

[email protected]

or 01481 244155 please.