Revised plans to build housing on the "triangle field" opposite Braye Road industrial estate have been described as "a vast improvement" by the Vale's Senior Constable, Richard Leale - although he would still prefer for the site to remain undeveloped.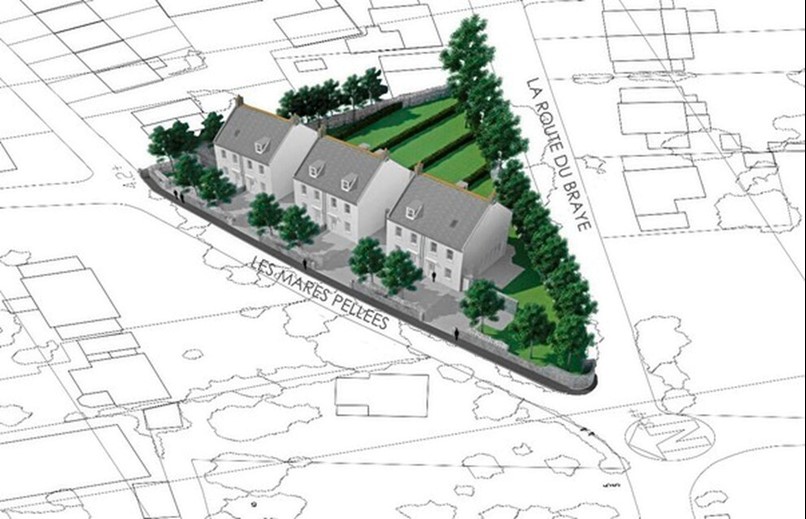 He said, however, that under the current planning system parishioners had to accept that the area was not going to remain as a field and that something would be built because the developer was going to do their best to get something approved.
"This latest application is a vast improvement as long as the Braye Road side trees have a protection order placed on them for a good number of years so as prospective buyers can not cut them down, then the development will not be so noticeable from the Braye Road," he said.
Earlier plans for eight houses were rejected as over-development by Planners and the fresh scheme, pictured above, is reduced to six homes - in three semi-detached units - with two two-bed and four three-bed houses.
"Better amenities"
Under the scheme, four new accesses would be created from Les Mares Pellees for the properties, which would face the road. The gardens would back on to Braye Road. The width of the junction with Braye Road would also be increased.
Developer Hillstone Guernsey Ltd says it has listened to earlier criticism and tried to respond to that, while improving amenities at the site.
"With this in mind we have come up with a design that includes adding a footpath to the Mares Pellees lane, widening of the road junction where Mares Pellees lane joins the Braye Road and finally to add a bus stop, positioned back from the pavement edge, for people to safely wait for their bus and to enable other pedestrians to pass," a spokesman was quoted as saying in the Guernsey Press.
If the development goes ahead, the homes are expected to be valued between £425,000 and £550,000.