Residents potentially most affected by proposals to build up to 150 new homes at the former Saltpans Kenilworth Vinery site have asked the Vale Douzaine to ensure Planners are aware of their concerns.

A number of householders have separately been in touch with douzeniers while homeowners living in Braye Clos are particularly worried by the plans, which have been revealed in a development framework approved by the States Development and Planning Authority (DPA).
The opposition focuses on three main areas:
The effects of traffic and access to the site
The danger of flooding in a known risk area with increased water run-off from properties, and
Schools serving the parish catchment area already being at or over capacity
Those spoken to by the Parish website stressed they weren't Nimbies (not in my back yard) but questioned how so many homes could be built on a flood plain with such poor access and history of flooding.
Ecological impact
Others were also worried at the effects of building on the ecology of the area. Half the site is already classed as important open land with two adjoining areas of biodiversity importance. Additionally, where homes are to be built includes an existing body of open water, an important food resources for a colony of bats regularly seen by residents.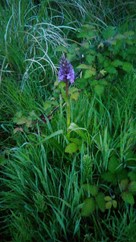 Charles Hurford, La Société Guernesiaise Bat Section secretary, reviewed a video of the bats for this website and said: "Our suspicion is that they are Common Pipistrelles. And of significant number – we can see about three in one field of view. These are very important animals for ecology as they hoover up 3,000 insects per night. Bats in New Zealand went functionally extinct and now in parts of New Zealand people get attacked by swarms of biting midges.
"Until we get stronger environmental laws ecology will continue to lose out to big developments and we will become a more polluted and sterile island as a result."
Bats are protected species in the UK but not here.
Orchids found
A site visit by Mr Hurford also discovered orchids (pictured) and wetland species of plants and the organisation suggested residents should be seeking an environmental impact assessment (EIA) before anything is built there.
A Braye Clos resident said the DPA framework appeared to confirm no EIA had been carried out but that a screening process should be conducted to decide whether one was needed. "That begs the question, who does the screening and on what criteria?" they said.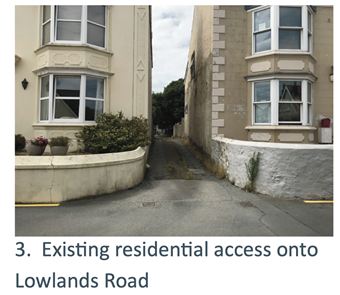 Photographs in the framework document itself seem to confirm the access issues highlighted by residents. Those above show how the new estate would emerge directly onto Braye Road while this, left, shows the restricted approach from the other entrance, on Lowlands Road.
Over capacity
"From a personal point of view I have concerns about the traffic entering into la Route du Braye at the site of the house called Excelsior, in conjunction with the traffic also entering 50 yards further on at the new development at the Tertre Lane. The final plan already says that the two end points, at the mini roundabout at the Bridge and Crossways, are at over capacity, but seems to just gloss over this fact and offers no solution. In fact in the appendix 1P9 they say that the vehicular access onto Braye Road will have no significant impact! They obviously do not live here nor have studied the traffic flow," said one resident.
Flood fears
All those opposed to the Saltpans proposals stressed the existing problems of flooding in the area from storms and, given rising sea levels, from seawater overtopping at the Bridge.
One said: "Climate change has accelerated beyond and faster than original predictions but it again appears to be glossed over. Who is accountable if/ when flooding occurs and property is damaged and uninsurable?
It just looks as if the IDP [Island Development Plan] has stated how many houses have to be built annually and that has to be pursued at all costs. I wish I could find evidence somewhere of our true housing needs."​
School problems
Another mother said: "Why all this building in the North? The Vale School is full, there's no St Sampson's Infants' School and Haute Capelles is also full. Given that these Saltpans homes are going to be for families, where are all the children going to be educated and where are they going to play and congregate when they're teenagers?"
Asked whether Guernsey bats are safe given the Coronavirus pandemic, Mr Hurford said: "There is absolutely no risk of bat human disease transmission unless we do what the Chinese do, which is catch, cage and eat.
"One interesting point is that bats were in Guernsey long before humans were here. Humans cut down the forest and therefore bats have moved into roof spaces as the old trees which they would have originally lived in have all been cut down."