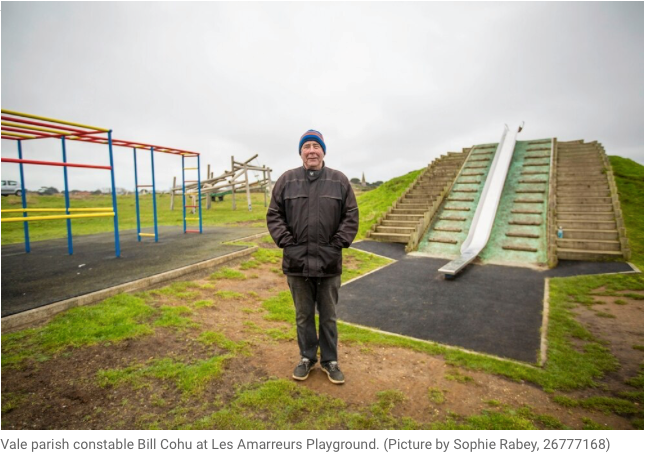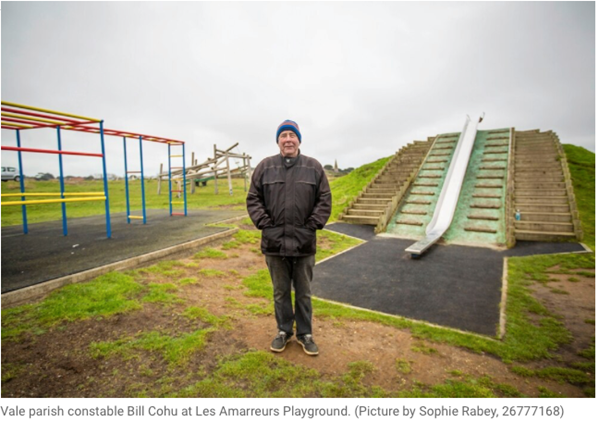 New equipment is to be installed at the children's play area at Les Amarreurs as part of the on-going parish improvement project. A roundabout and climbing dome are expected to be in place by the Spring.
The new apparatus has been chosen by the Vale Constables to enhance what's already at the very popular facility, the only playground in the parish.
There are currently climbing frames, swings, slides and a sand pit at the site but 'apart from the swings, nothing else at the moment moves,' said Junior Constable Bill Cohu (pictured above by the Guernsey Press). The new equipment will make the attraction more dynamic for youngsters.
Approved
A little under £4,000 is to be spent improving the play area and the money has been set aside from parish rates, after being approved at an earlier parish meeting, and from some of the money raised through dog tax.
Mr Cohu said the parish had an on-going programme of maintenance at Les Amarreurs, after the land was ceded to it by the Vale Commons Council, and it required quite some upkeep because of the use families and children made of it.
'We're lucky and grateful that Andrew Pouteaux organises volunteers and corporate groups who come and help with things such as cleaning and painting equipment,' he said. The play area itself is inspected and certified annually by a UK consultant to ensure it conforms to standards and remains safe.
The last major addition was made about two years ago, when a wooden climbing frame was erected, which has been very well used by youngsters.
People using the play area are asked to keep dogs away from it because of the risk that they scent mark the grass or equipment that children play on.