Householders in the Vale should have received their annual rates bill in the post recently and are asked to pay the amount requested no later than June 11. Prompt payment is essential if the parish is to continue providing essential services.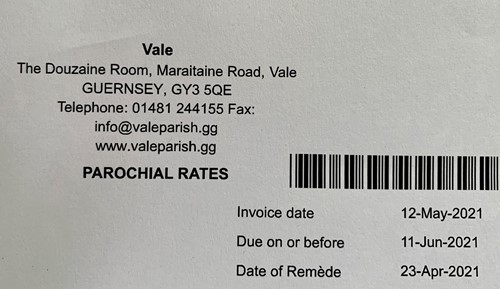 In all, the parish is looking to spend more than half a million pounds this year – £324,921 for the collection of domestic refuse and a further £236,600 for parochial matters.
This includes £60,000 towards the upkeep of the cemeteries, £15,000 for maintaining the playground at Les Amarreurs and £21,000 for street lighting. In all, the total comes to £588,711, including just over £27,000 for parish church needs.
The expenditure was approved at an earlier parish meeting and ratified by the Royal Court so sending out the rates bills is a vital part of running the Vale parish.
Payment can be made by post or at the Constables' office using cash, cheque or card and the office can also take card payments by phone.
Online payment is also accepted by BACS through parishioners' own banking facility or mobile app. To do so, simply follow your bank's instructions for setting up a new payee and enter the Vale Parish's sort code – 30-93-73 – and the parish account number – 02422523.
The other thing needed, which is vital, is the parochial rates invoice number, found at the top of the bill sent out to all parishioners in the post. Without that, matching up the payment to the household becomes extremely difficult.
The Constables' Office is located at Maraitaine Road, Vale, Guernsey, GY3 5QE.
Telephone: 01481 244155
Its opening hours are: Monday - Friday 10.00 - 13.00
Email: [email protected]