Rousse Pier, which was badly damaged by storms in November, is to be repaired over the next spring tides, the States has confirmed. The assurance came after the Vale Constables raised concerns, highlighted by users and the moorings committee.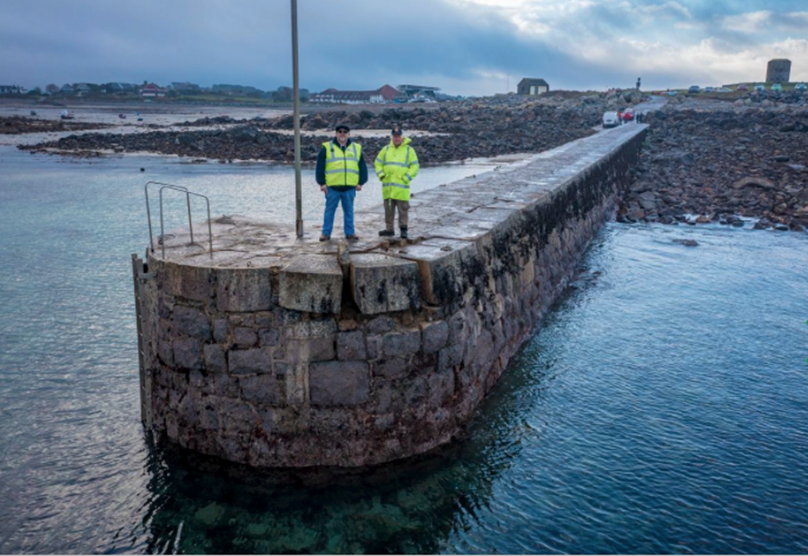 Darren Mann, left, and Rodney Norman (pictured above) are on the committee and both are Special Constables for the area.
"Nothing has been done here in a long time aside from some surface capping last year," said Mr Norman. "Once one stone gets loose, the rest start to go as well, as you can see. More of the substrate underneath the foundations is being washed out as well. I think another strong north-easter would be catastrophic," he told the Guernsey Press. 
The extent of the damage, raised here on Wednesday, has been addressed by States Agriculture, Countryside and Land Management Services, a sub-committee of Environment & Infrastructure. It said: "We plan to carry out further repairs at the very next spring tide, which will allow enough time for the repairs to be made and materials to set."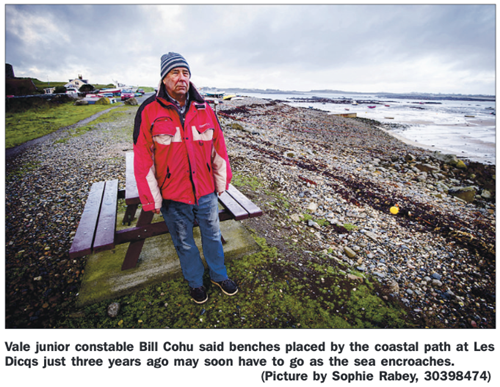 Rock armouring
Separately, the parish is asking whether remedial action can be taken to prevent coastal erosion from worsening in front of the Peninsula Hotel. As part of its parish improvements programme, junior constable Bill Cohu organised with the moorings committee for the area used for boat and gear storage to be tidied up and picnic tables installed.
These are now right on edge of the bay as rising sea levels have started to erode the margins of the bay. If it continues, said Mr Cohu, they would probably have to take the benches away to protect them.
States Agriculture, Countryside and Land Management Services has been asked to consider whether rock armouring, which has been placed along the stretch near the former Houmet Tavern, can be extended towards Rousse Pier.