An invitation to parishioners to comment on a proposal that Hougue Jehannet, the road running behind the island's power station, be closed permanently on security grounds has triggered a detailed response from one regular user who says he will be seriously affected if the thoroughfare is gated off. Here, he sets out the impact on his business – and suggests that the value of the land sought by Guernsey Electricity Ltd (GEL) is around £25m.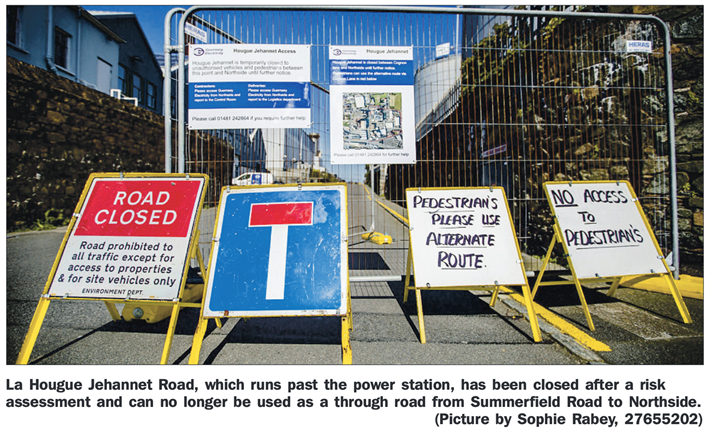 The parishioner, who gave permission for his letter to be published without his name, says:
Further to your request for parishioners' comments in relation to the above, I'd like to summarise some of the issues we have experienced as farmers and growers over the last few weeks due to the closing of Hougue Jehannet (HJ), and also as someone who lives in Rocque Barrees Road, North East of the closure.

As you can imagine, despite the lockdown, with all our essential worker status, respecting social distancing, we have all been extremely busy, slurry spreading, rototilling, ploughing, harrowing, and seeding. Some of this work commenced just prior to lockdown, but after the road was closed.

Illegal parking
We encountered lorries pulling half across Summerfield Road (SR) in order to check for oncoming traffic from the West. This narrowed the road further to get through, with the lorry having to back down HJ, even if there was a vehicle following it out. On various occasions we encountered people having parked on the yellow lines of SR, thus causing anyone wanting to come out of HJ to move further across the road. Some vehicles were not parked sensibly along SR, as in tight to the pavement, causing undue stress and manoeuvring of tractors and machinery, delaying other road users. It got to the point where machines were being left in fields overnight in order to get home. The current parking/yellow line gaps on SR are not long enough for tractors and machines to swing in to let other road users past, especially if there are illegally parked vehicles. The same goes for Les Maresquets (LM), an alternative route. Another alternative route, Route Des Coutures, currently closed, and then Belval Road, suffer excessive parking also, and some tight corners, which for some machinery is just too tight and high risk to other road users and pedestrians.

On occasion we've either had to resort to driving around Bordeaux, across North Side, through Vale Avenue, back onto Braye Road, or, all the way around L'Ancresse and cut in from there somewhere depending on when and where the next job was.

You may be wondering why not just drive your machines along Northside, around the coast and come up Rocque Barrees Road (RB) from the harbour, a logical thought. However, gates to fields are more accessible from a westerly direction than an easterly, thus creating further manoeuvre to either back into gateways or turn around at junctions in order to access fields without causing damage, both of which adds to traffic chaos with other road users, some of which are very impatient.
Negative impact
It would appear the loss of parking on HJ has added to this situation this last month, in a highly negative way. Vehicles emerging from HJ into SR are having to cross significant parts of the junction in order to check for oncoming traffic, and despite the 25mph limit, this is causing additional risk, which can be avoided. Pushing agricultural machines onto other roads, whereby they have to do additional manoeuvres adds risk not only to other road users, but when the schools are back, in particular, the pedestrian public.

Possible mitigation should HJ remain permanently closed to through traffic and parking, would be to ban all on-street parking on SR and LM, or introduce a one-way system on both roads. Both ideas would raise huge objections from the local community just because a trading body decides they'd like to increase their influence. What would happen in emergency road closures of either of these roads or indeed Vale Avenue? Surely if this remains a proposal, a traffic flow and volume investigation will have to be conducted, once the Island is back to normal of course, otherwise all information will be skewed.

In the meantime, whilst this flush of agricultural activity has now died down, June, July and August will see the commencement of the hay production season, so you will again see a spike in activity.

Worth £25m
From a personal perspective, and having been a parishioner all my life, I'm appalled at such a suggestion of permanent closure of HJ to all traffic and pedestrians,, especially as this also limits the access and use of the Cognon Lane, a quick cut-through to the Bridge and back for anyone living and walking from the north east side. With the greater use of environmentally friendly sources of power to the Island, the overall size of the power station should be decreasing in time, with less use of oil storage facilities and therefore a safer area to travel, especially on foot or cycle.

What has been the proposal by GEL to buy the road and all its access from the Parish? I sincerely hope its in excess of £25 million for such a permanent right. After all, this is the current parishioners selling their rights to the detriment of the future parishioners and the youth not yet born.

Currently there is no great terrorist threat to the Island, and even less to with the lockdown in place and no passenger or public flights to and from the Island. There are historical houses along Cognon Lane, admittedly due mostly to the Occupation, but historical nonetheless, and a further devaluing of this Island's history through non-accessibility is the last thing we should be considering, especially under current circumstance, and at the 75th anniversary of Liberation.

I trust the above proves of some use as to the insight of the last few weeks' activity, and issues, and also the value HJ has as an access road not only from a vehicle aspect but also for pedestrians.
If other parishioners have comments – for or against closure – we'd be pleased to hear from you by post to The Constables' Office, Maraitaine Road, Vale, Guernsey, GY3 5QE, or via email to [email protected]