A formal invitation has been extended to all Vale parishioners to attend this Sunday's annual Remembrance Service in memory of those who fell in the two World Wars.
The official notice has been published in La Gazette Officielle and the service will be held at the Vale War Memorial at 10am on Sunday the 13th.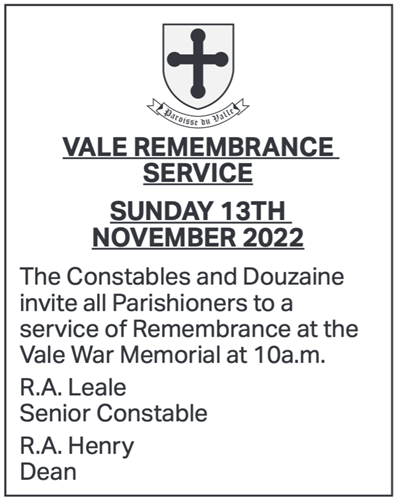 The service was also mentioned at the earlier parish meeting when Dean of the Douzaine Rosemary Henry said that it should last for approximately 15 to 20 minutes.
The deliberations of the meeting have also been published – and can be found here – which give details of the elections held on November 2 and other matters considered by the meeting.
Elections
A new douzenier has been elected. He is Oliver Brock and was the only nomination for the seat vacated by the retirement of Paula Robinson.
In other elections, long term member of La Mare de Carteret High School Committee Mary Lowe lost her seat by one vote to Deidre Dudley-Owen and in another contested election, Peter Lowe was elected to the Vale Parochial Cemetery Committee.
The Dean also thanked Brian de Jersey and Ken Carre for their long service on the committee, 35 years and 28 years respectively.
In any other business it was noted that the bus stop has been moved from La Moye to the Common and the douzaine was asked to request Traffic to install a pavement for safety reasons. It appears also that residents have complained about people outside their homes. 
For full details of the elections and meeting do please read the Deliberation as the above is a brief summary only.