Traffic delays and disruption caused by road closures have prompted the Constable of the Vale to repeat a call for the island's parochial authorities to be involved once again in the process.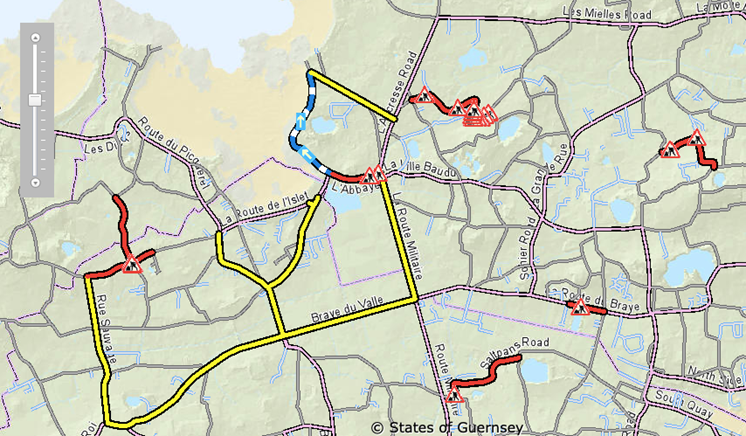 With more than 20 closures or one-way systems scheduled for the next week – which includes seven in the north of the island alone – Richard Leale said it was time for the authorities to reconsider involving the douzaines again.
"It certainly seems to me that the system worked better in the past when the parish authorities were involved," he said. "The use of local knowledge and which diversions were likely to work and which were not, ensured that disruption was kept to a minimum."
His comments were triggered by complaints about disruption caused by current closures at L'Abbye and concerns about yet another one-way being imposed at Sohier Road.
Douzenier Jon Bond, who has previously questioned the random operation of the traffic lights at Bulwer Avenue, challenged the one-way at Cotes des Amarreurs. "My observation was that it would be far more efficient to have the diversion the other direction, allowing traffic to more easily pass through the two sets of traffic lights by turning left and not turning right against the oncoming flow of traffic."
Traffic and Highway Services have since acknowledged the comment and confirmed on the 10th that "arrangements are being made to change the direction of the one-way at Cote des Amarreurs in the next 48 hours, in order that vehicles are not right-turning across opposing traffic at the two signal junctions."
Mr Leale commented: "This isn't to score points but it does go to show that a centralised system isn't infallible and you can't beat a bit of local knowledge and input when it comes to matters as disruptive as road closures.
"Personally, I'd go further and question why the contractors don't work double shifts to ensure the work is completed more quickly on particularly heavily-used sections of the road network."
Douzaines used to approve road closures before reforms some years ago removed th responsibility from them.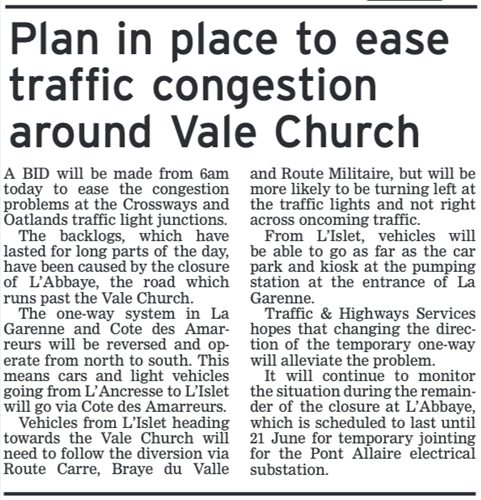 How the Guernsey Press reported the congestion changes this morning