Anyone trying to reach the north via Les Banques is being warned of an extensive diversion and possible delays as up to 12 separate teams will be working at the Halfway junction to St Clair Hill from 15th to 21st December.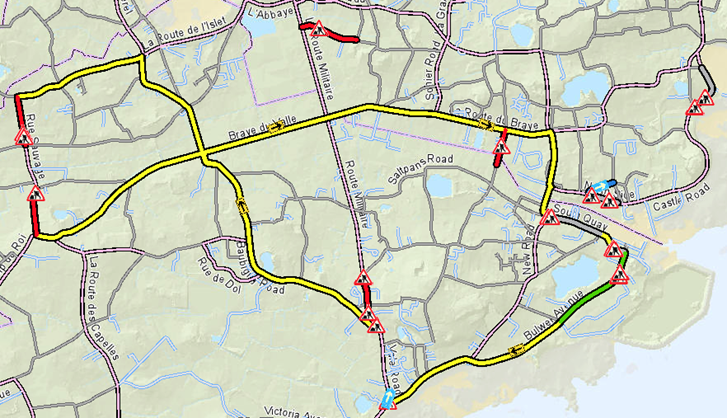 The extensive programme involves Sure, Guernsey Water, Guernsey Electricity and Guernsey Energy (formerly known as Guernsey Gas) at the Halfway junction and Ronez will also be undertaking remedial road surface repairs in St Clair Hill, during which this road will be closed to traffic.
The illustration above shows the diversion that will be in place as access to the Bridge area will be via Vale Road.
Traffic and Highway Services says that Sure will also have teams working at the Halfway, within Vale Road, St Clair Hill and Rue des Pointues Rocques carrying out works in support of the roll-out of fibre connectivity in the area.
In order for the contractors to work safely in the works area outside the former Halfway Café, the northbound slip lane from Les Banques into Vale Road will be closed to traffic, and changes will be made at the junction to enable vehicles to enter Vale Road via the filter junction at the Halfway.
Importantly, says Traffic, vehicles will not be able to access the coast road from Vale Road during this period, but access into Vale Road from Les Banques and Les Bas Courtils Road will be maintained, with traffic then routed through Baubigny towards Oatlands. This will mean that, although Vale Road itself will operate to two-way traffic within that road section, vehicles coming from Vale Road will not be able to access the coast road.
Vehicles from the Braye Road area routing towards town will be diverted via the Bridge and Bulwer Avenue for the duration of the works.
Coordination
The coordination between Traffic and Highway Services and the contractors involved, enabling these multiple works to all be carried out concurrently will ensure that the overall duration of works is kept to a much shorter duration than would otherwise apply and the cooperation of all contractors involved has enabled this, it says.
Islanders who are cycling will be able to dismount and walk their bikes past the works areas at St Clair Hill and Vale Road, and are asked to honour the signs asking them to do so.
The department says: "Those who are driving are encouraged to plan ahead and allow extra time for their journey through the area and are requested to comply with temporary traffic management at the Halfway junction, particularly temporary speed restrictions which will be in place to both maintain traffic flow and to ensure a safe working area for contractors and engineers working in the carriageway. Given the volume of traffic on these routes at peak hours, commuters are asked to consider using public transport, car sharing or active travel options available to them."