Vale residents have been invited by the Development and Planning Authority to nominate the green fields and open spaces they would like to see preserved from development in the parish.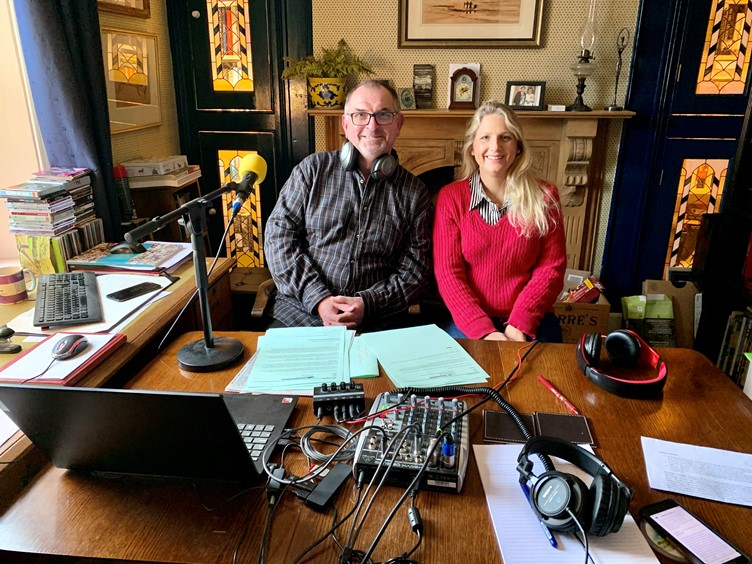 Deputy Victoria Oliver pictured earlier with Vale based community radio station presenter Keith Pengelley
DPA president Deputy Victoria Oliver made the offer while speaking to the Vale Douzaine at its last meeting, when she faced a range of questions about Planners' approach to building in the north of the island and what many see as an unfair volume of building in the parish.
Deputy Oliver acknowledged some of the concerns and said that the authority was currently creating a green infrastructure plan to identify what open spaces should be saved from development. "Please let me know what fields you'd like included and we'll try to accommodate that," she told the douzaine.
While no guarantees could be given, the DPA would look carefully at preserving areas parishioners highlighted as being important to them and the neighbourhood.
Well-being
"Potentially, for the green infrastructure plan, which is about where are our important green areas of land, can we create better well-being area," she said, "i.e. cycling, walking and maybe a picnic area or net gain for biodiversity?"
Senior Constable Richard Leale afterwards extended the DPA invitation to parishioners. "As a douzaine we can certainly identify the key areas that we think should be preserved – sadly it's too late for the Triangle Field – but we want to hear from parishioners to see what they think," he said.
He was appreciative of Deputy Oliver attending the douzaine meeting and speaking freely about the difficulties faced by the DPA. "I think we all felt her honesty in answering questions and willingness to listen was very refreshing," he said.
Difficulties
"There are clearly difficulties with the current planning regime and the Island Development Plan but the new authority recognises that and are trying to do something about it."
More immediately, the recognition that green space needed to be ring-fenced from building was particularly welcome and he hoped that parishioners would add their voice to the need to preserve what's left of open space in the parish.
Deputy Oliver explained that the current planning approach was to preserve as much countryside as possible which meant concentrating building in the island's main centres – Town and the Bridge – and so 168 homes had been built in St Peter Port since 2016 and 90 in the Vale and St Sampson's.
The DPA faced some difficulties, however, as both Policy and Resources and Employment and Social Security were pressing the authority to enable more home building to help ease the island's chronic housing shortage, which meant releasing land. 
Where do you think building should be prevented in the parish? Let us know so the douzaine can help Planners create a green infrastructure plan for the Vale. Write to us at Constables' Office, Maraitaine Road, Vale, Guernsey, GY3 5QE or email

[email protected]