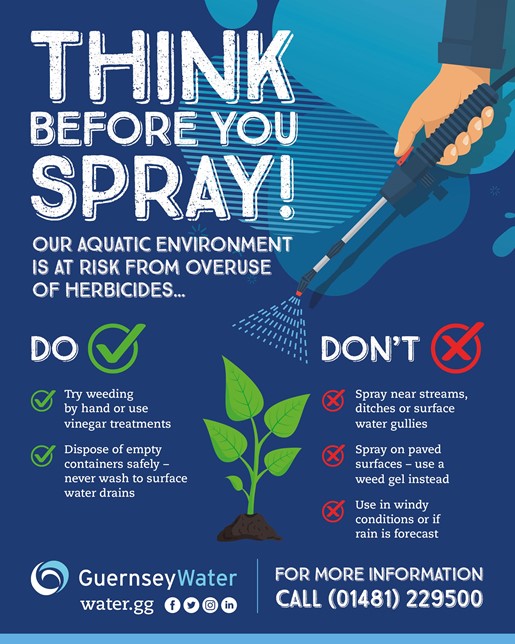 The warning follows a Vale Douzenier reporting what appeared to be indiscriminate use of pesticides in the parish – something the authorities took seriously.
"As the site is within the raw water catchment area we appreciate your concern," Guernsey Water said. "We have visited the site and now spoken to one of the three owners. As the site has been targeted for some time by illegal fly tipping it was decided to clear the site and remove the rubbish, together with the pernicious and persistent weeds.
"All green waste was removed correctly from site and the area believed to have been herbicide sprayed has been close brush cut by a professional team of contractors and the resulting dry waste burnt. We have made the owners aware of the current regulations relating to pesticide spraying for future information."
Knotweed control
As a result of douzaine interest in safe use of herbicides and pesticides, the utility has also provided the following information (below), which also gives advice regarding the control of Japanese Knotweed, an increasing problem in the island.
Guernsey Water says: "In order to reduce chemical residues in the environment, Guernsey Water advises that pesticides (herbicides / insecticides etc) should not be applied to vulnerable areas such as stream banks, ponds, wet meadows, marshy areas, douits, drainage ditches, underground culverts or paved areas. These guidelines apply even if the areas are dry at the time of the proposed application and even if the product labelling indicates suitability for use in or near watercourses.
"Pesticides should not be applied in wet or windy conditions, or if immediate rain is forecast as this will lead to run-off and contamination."
The States Trading Supervisory Board, acting as Central Streams Committee, has published the official notice reminding proprietors of land bordering controlled streams that they must be cleaned ensuring an unrestricted flow of water by 15 June. The streams will be inspected following this date.