Work carried out to help protect the North of the island from coastal erosion has been commended by Vale Senior Constable Richard Leale as welcome proactive intervention by the States.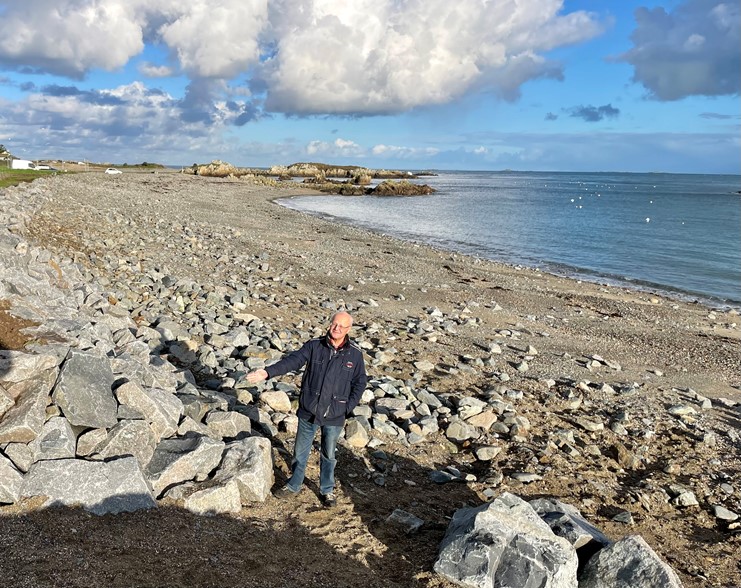 Constable Leale at the newly-created access to La Banque Imbert at Bordeaux with the new rock armouring behind him
He said that the island's government frequently got criticised for the things it did so he wanted to take the opportunity of thanking it for a job well done in stepping in to protect one of the island's best-used beauty spots.
"Bordeaux and La Banque Imbert are massively popular with islanders generally and not just Vale residents so it was pleasing to see Environment taking the initiative and using rock armouring along this strip of coast to prevent further erosion," he said.
Contractors have been used by the committee to place boulders along the section of coast by Bordeaux car park to prevent further sea damage to the soft earth banking on the east of the parking area. 
A path has been created down to the beach near Woodies kiosk and the toilets there to make it easier for the public to access the beach, which will encourage people not to step down from the grass bank, which itself had the potential to cause further erosion.
Safer access
"As well as providing resilience to our infrastructure, when the improved path is created, this should provide islanders with easier and safer access to the beach," said Environment in a release about the work.
Having seen the works yesterday, Mr Leale commented: "I have to say that they seem to have done a very good job and the better access to the beach is very welcome and I am sure it will be well used, especially in the warmer months."
He said he was also pleased to see that Environment had responded to Vale Commons Council calls to be similarly proactive around the coast at La Fontenelle Bay near Beaucette Marina (pictured).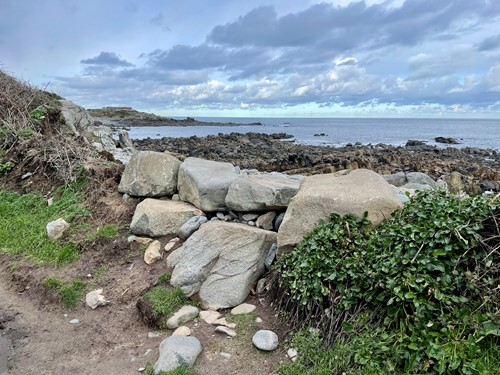 Similar rock armouring has been used to repair damage to the existing footpath boundary with the sea, which was in danger of being washed away in storms.
Re-profile
In addition, however, Environment has used machines on the beach to re-profile the levels and replace the small boulders and shingle that had been washed away over the years, exposing the soil underneath and potentially leading the path to be washed away. 
"This is more a matter for the Commons Council," said Mr Leale, "but I'm sure everyone who uses these areas will be grateful to the States for adopting a 'stitch in time...' approach and dealing with the situation before it became a problem."
The official release from the States  can be found here
The recently re-profiled shingle bank at La Fontanelle (below)