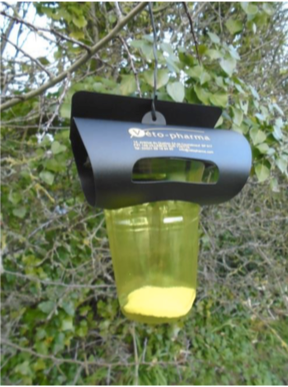 Special traps like the one above will be appearing in the Vale over the next few weeks as Operation Spring Queen gets under way. It's a special initiative to try to control the spread of aggressive Asian hornets, which damage local insect populations and can pose a risk to people.
The Vale is being asked to play its part in the island-wide drive to try to trap as many hornet queens – the female that, if unchecked, will go on to create a new giant nest with up to 5,000 hornets in it – as possible before they become established.
'Queen hornets live in isolation for a few weeks in spring which makes them easier to capture. For every queen caught during this critical time, there is potentially one less nest to have to control later in the year,' the States Agriculture, Countryside and Land Management Services department said.
 'If successful, "Spring Queening" will reduce the development of secondary nests during the year, restricting the growth of the hornet population on Guernsey,' it said.
Over the next few weeks staff will be making contact with individual land owners, non-government organisations and householders to ask them to take part in the "Spring Queening" Project. Volunteers will be sent an information pack with full instructions on how to put up a trap on their land and what to do if they catch an Asian hornet.
The same systematic method of trapping will be rolled out across Alderney, Herm and Sark in order to trap and kill queens and to reduce the risk of re-invasion from established colonies that avoided control in previous years.
More information about the campaign is available here.