A move by Planners to protect more than 40 trees surrounding the so-called Triangle Field opposite the Braye Road entrance to Alliance has been welcomed by the Vale's Senior Constable.
The site, (pictured here by the Guernsey Press) which was bought for £420,000 last year, has been earmarked by developer Hillstone Guernsey Ltd for six new homes – something opposed by many parishioners.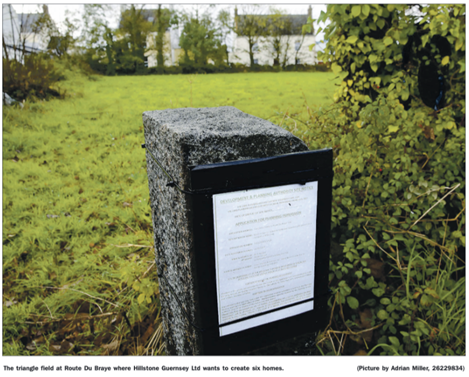 It is not clear what the tree protection order (TPO) means for building there but States Agriculture, Countryside and Land Management Services is concerned that the development could damage the trees, hence Planning applying for the preservation order.
Really pleased
"We are really pleased that this move has been made to safeguard the trees there," said Richard Leal. "We've had a lot of complaints about the development application and its impact on the site, which many regard as an important 'green lung' in this part of the parish."
A petition signed by more than 400 people was launched after original proposals for eight homes were published. That was rejected and Hillstone put in a new bid to build a reduced number of units there.
Tree concerns
However, Agriculture and Countryside said it had serious concerns about the proposals. "There is nothing to suggest that the layout, density or design has taken account of the trees," an officer said.
Although the trees are around the perimeter of the field, the TPO means each is given a root protection area 12 times the width of the trunk, significantly reducing the area for development at the narrower end of the field.
The Agriculture official was also worried that pressure would be applied to remove the trees on the southern, road side of the property at a later date.
Hillstone, which the Guernsey Press reported wasn't in a position to comment on the TPO, has until the end of the month to object to the order.