Vale Senior Constable Richard Leale has welcomed planning permission being granted for the derelict properties at Vale Avenue to be demolished.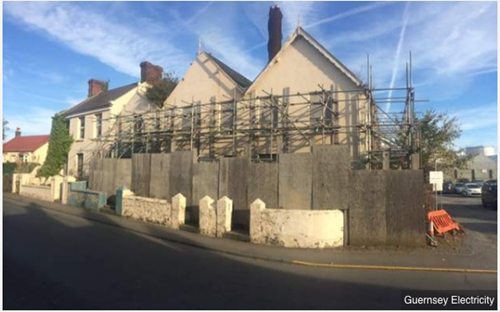 'A sensible decision has been made,' he said. 'To do otherwise, and insist that the properties be retained, was simply untenable.'
The decision has also been welcomed by Guernsey Electricity, which owns the former homes, and wanted to knock them down after they became unsafe and an eyesore.
What happens next is also of interest to the parish, he said.
'For the future, we'd like to see some development that is in keeping with the streetscape,' said Mr Leale.
'Personally, I'd like to see something that's not too grand or imposing looking and that reflects the granite heritage of the north of the island.'
In the meantime, he hoped that the road frontage would not simply be hoarding or unsightly fencing while Guernsey Electricity decided what to do next with the site.
Alan Bates, chief executive at Guernsey Electricity told BBC Guernsey: '[Demolition] is the best option, and will benefit both neighbours and the wider community.'
It's not yet clear what the utility intends to do with the site as Mr Bates also said that the company wanted to maximise the opportunities presented by fast developing energy technology.