Five Vale households are about to be taken to court for not paying their rates, Senior Constable Richard Leale has confirmed as the Douzaine gets tough on defaulters.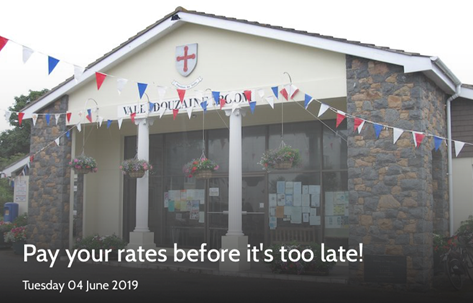 Around 20 bills remain outstanding and the first five court summonses have been sent to individuals who also owe for last year and, in one case, for longer than that.
The individual amounts vary from £150 up to £600 or so but the first five are all for £300 upwards because they also have arrears. In addition to having to pay the outstanding rates, defaulters also face a summons fee of £60 per named person on the property deeds and not £60 for a married couple as in previous years. This means there would be one court fee of £120 if it gets to that stage.
Paying not optional
In all, the parish is owed around £4,000 and will pursue recovery said Mr Leale, because the Douzaine is entrusted with the proper oversight of parish funds. "Paying rates is not optional – it's a legal requirement."
Not pursuing those who didn't pay was unfair on everyone else and, left unchallenged, simply meant every everyone else eventually having to pay more, he said.
"The Douzaine does everything it can to contain costs and to minimise rates bills. Having to chase people like this can actually increase what we have to charge people because of the extra work and cost of taking people to court," said Mr Leale.
"That's why it's so antisocial and why, reluctantly, we will take anyone to court who doesn't pay their rates."