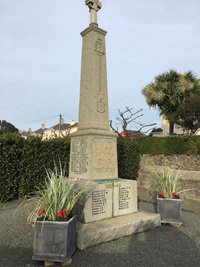 The Vale Parish Remembrance Service commemorating the Armistice will be held at 10am on Sunday 10 November at the war memorial just off the Bridge. Anyone attending will then be invited back to the Douzaine room for tea or coffee and biscuits while live coverage of the UK's Cenotaph service and two minutes' silence will be available on a big screen.
The Vale's service will be led by the Rector Fr Stuart Tanswell and a wreath will be laid before those present walk back up the hill to the Vale Douzaine Room for refreshment.
Everyone in the parish is invited to attend and to take the opportunity to remember those who have served, as well as letting the men and women of the armed forces serving at the time know that their community supports them.