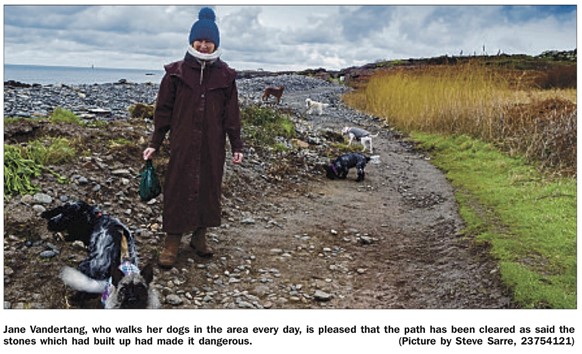 If it wasn't the States, the Douzaine or the Vale Commons Council, who was it?
The well-used coast path at La Fontenelle, leading from the rifle range to Beaucette Marina, has been covered in stones and pebbles since the last storms.
Until recently, that is. Someone has since used a JCB to clear the path – but no one seems to know who it was.
None of the authorities have organised the clearance but, the Guernsey Press reports today, walkers and dog owners are grateful that the work has been done.
Regular user Jane Vandertang (pictured by the GEP above) exercises her dogs there every day and told the newspaper it was much better and previously quite dangerous, with the risk of people twisting an ankle on the uneven surface.
So someone has done the parish and path users quite a favour – but no one knows who to thank.