A more holistic and joined up approach to traffic matters in the North of the island has been promised following a meeting between the Vale's Senior Constable and Development and Planning Authority (DPA) President Dawn Tindall.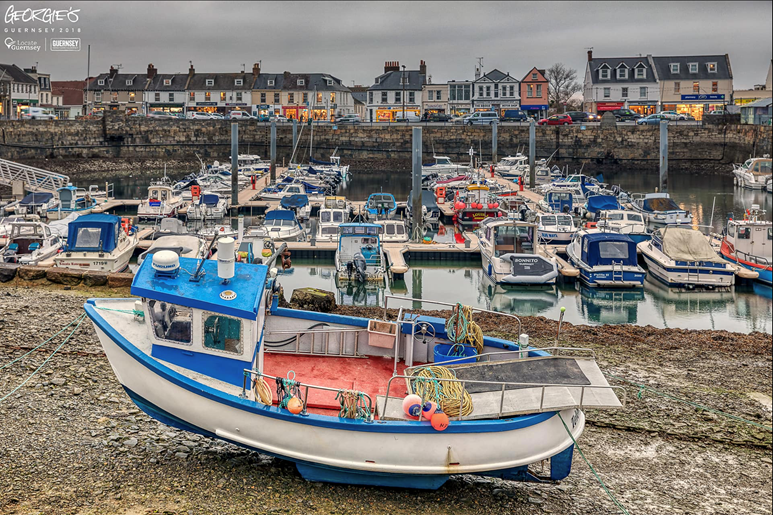 Photo courtesy Chris George – https://chrisgeorge.dphoto.com
In a wide ranging and useful discussion with Richard Leale, Deputy Tindall disclosed that steps were being taken to provide a form of "rolling" traffic impact assessment (TIA) for the Vale and St Sampson's.
Previous TIAs were being collated, including those for the two school sites, and DPA had asked States Traffic and Highways to provide a rolling traffic impact assessment so it could become a living document able to inform any development in a particular area, said Deputy Tindall, right.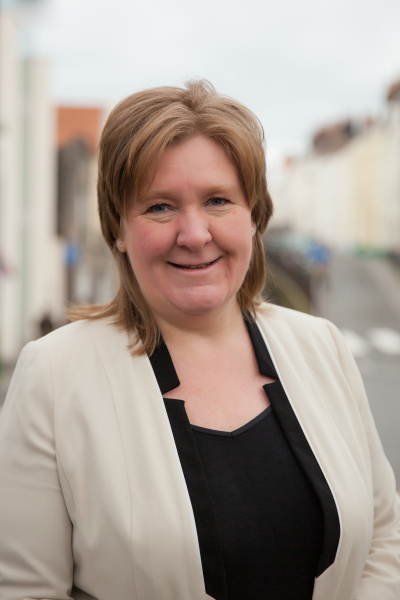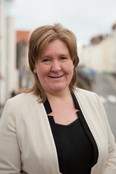 The development follows parish criticism that TIAs for specific housing and other development sites failed to provide an across-the-board view of traffic impacts and was therefore piecemeal planning.
Deputy Tindall said the improvements scheduled – made possible in discussion with States IT consultants Agilisys – would greatly widen the area being monitored.
Fewer than feared
She also explained the technical nature of planning frameworks, such as those for Leale's Yard, Saltpans, Le Four Banal, Pointues Rocques and others. The parish has previously calculated that the total theoretical number of homes which could be built in the North was 1,500, but Deputy Tindall said this could vary significantly. Each maximum figure was per site but the first one developed would then have a knock-on effect on other sites and reduce the subsequent maximum number of dwellings likely to be permitted.
"The maximum number built on the second and further plots should reduce, but it depends on the number of bedrooms in each unit. This is because the maximum number of dwellings are only recommendations and can still vary upwards, depending on such things as the building design, the number of units already built in the area and/or if infrastructure improvements have been made etc," she said.
This needed to be explained because a planning permission on any one site could allow more than the maximum but it would still have the knock on effect of reducing the maximum recommended on the other development areas.
"This will affect the density range as each plot is built upon," she said, adding that acceptable impacts of traffic would similarly be reduced as sites were built on.
Deputy Tindall also added that it would be more helpful to focus on the number of bedrooms to be created. Current demand is for two- and three-bed properties. The lower the number of bedrooms in the unit the greater the number of units overall. So the maximum theoretical density would likely be met only if all properties were single bed units.
Leale's Yard
The need to regenerate the Bridge area was extensively discussed and while Deputy Tindall acknowledged the Vale and St Sampson's desire to see this actioned first, her view is that's unlikely to happen unless there was government support for it or "a philanthropist with the money and will to get it started this year".
Deputy Tindall said it was not for the DPA to prioritise the order in which developments took place but to provide options and leave it to the commercial market to decide where and what to build.
Public opinion and viability had previously made the North "toxic" for developers. This was highlighted in facts and figures she provided (available in full below)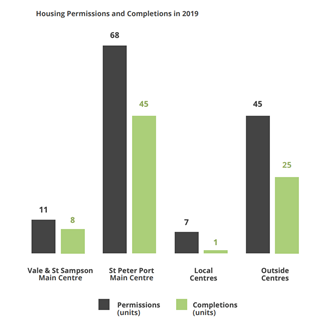 showing that St Peter Port was a more attractive centre for house building last year.
In terms of quickest candidates for getting Revive and Thrive "spades in the ground", Saltpans and Pointues Rocques were ahead of Leale's Yard, she said.
Fontaine first?
Planners have also recently been told that Committee for Employment & Social Security and the Guernsey Housing Association, with responsibility for social housing, wanted a development framework for Fontaine Vinery, owned by the States, brought forward by two years to 2020.
This therefore might be published shortly, meaning the area off the Vale Road could be developed ahead of all the other sites.
Mr Leale said after the meeting he was grateful for Deputy Tindall taking the time to explain the intricate nature of the planning process, frameworks and how the cumulative nature of developments would affect what was subsequently permitted.
"This gives us some comfort about being able to control development in the North and we're pleased Planners have found a method to make traffic impact assessments more joined up and relevant to the parishes," he said.
"Planning" questioned
However, he remained concerned that under the system, development depended more on which site a builder chose to go ahead with rather than what the community required.
"From the very helpful discussion we had with Deputy Tindall, we can now see that La Fontaine Vinery or a couple of other housing sites could go ahead first, because they are easier, rather than the Leale's Yard* regeneration scheme – with its mix of homes, social housing, health centre and digital businesses – which would have much wider benefits.
"I don't mean this as criticism of Deputy Tindall, but it's not what most of our parishioners would understand by the term 'planning'."
*Mr Leale has no interest in or connection with Leale's Yard.
An edited transcript of the conversation, which also involved douzenier Richard Digard, is available below.